Johnny Cash
Hymns By (Columbia/Legacy)
By: Alex Steininger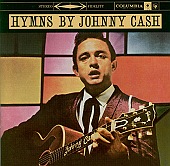 One of the reasons Cash decided to leave Sam Phillips' Sun Records was that he was discouraged from recording the hymns he had grown up on. Columbia Records afforded Cash the opportunity to record the Gospel he loved so much, and in 1958 Cash took advantage of their offer and recorded Hymns By Johnny Cash, a classic album that showcases Cash's unmistakable baritone singing gospel songs as they've never been sang before.

Cash has created pioneering country music. However, he is far from a one trick pony, recording love ballads, Bob Dylan songs, rock-a-billy, and gospel. All of which play heavily into the career of Cash, as he has never been one to do the same thing over and over again.

With over forty years passed since Columbia originally released Hymns, Cash's take on these hymns has grown into a timeless collection of staple country-gospel numbers that country, gospel, and Cash fans alike will love. I'll give it an A+.