Johnny Cash
Ride This Train (Columbia/Legacy)
By: Alex Steininger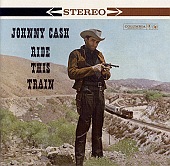 Recorded in February 1960, Ride This Train brings out the storyteller in Cash, as he uses travelogue to introduce each song. Cash tells you a story that has you at the edge of your seat, taking you town to town, event to event, as you travel the great U.S. with him, singing with him in front of a campfire. All while you're engaged in his stories, educating yourself on this great nation's past, learning about the railroads and towns that the trains stop in.

After he has lead you into a song with a story, he permanently places the story in your head with a song that drives the story home, giving you more heartwarming, gritty travel stories to cut your teeth and chew on.

Ride This Train is a book on tape with audio interludes, a true testament to Cash's versatility and ability to tell a story without a guitar, and his ability to tell even better stories through the powerful playing of his guitar.

Four unreleased bonus tracks give collectors and fans that already have the material a reason to buy this CD, if the extensive liner notes weren't reason enough. I'll give this an A+.