Yacopsae
Einstweilige Vernichtung (Slap A Ham)
By: Jeb Branin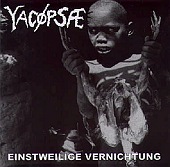 Someone once described me as a person who has "a million ways of saying brutal," which may be true, but I would have to use them all to effectively describe the fierceness of this album. Most bands that play unrelenting million-mile-an-hour fastcore sound like they are chaos incarnate-like they are about to reach escape velocity and go flying out of control. YACOPSAE are just the opposite. In spite of the fact they are one of the fastest bands I have ever heard their turbo-charged thrash is a model of precision and accuracy. Whereas most fastcore has an impact like a clusterbomb, YACOPSAE are more like a laser guided weapon used for surgical strikes.

You could safely say they are tighter than the skin around Joan Rivers eyes following a facelift. Every one of the 37 songbursts on this album is like a kick in the groin - short and violent, but apt to leave a lasting impression. If you thought the evolution of power violence was inevitably leading towards mathcore or screamo, then think again sucka because YACOPSAE is currently the zenith of the species. I am not exaggerating one iota when I say this album will go down as one of the greatest releases on Slap A Ham ever. People will be talking about this album in the same breathe as NO COMMENT's "Downsided," LACK OF INTEREST's "Trapped Inside" or the CROSSED OUT 7". The only flaw on the entire release is the gore pictures inside the CD. When are bands going to learn that regardless of the message they are trying to send gore art only detracts?