INTERVIEW: Actionslacks
Power-Pop That Rocks (Actionslacks' web page)
By: Alex Steininger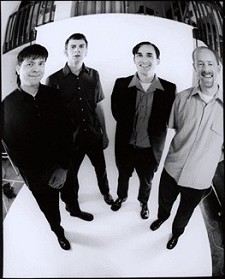 "I moved to L.A. a year ago in July," says Tim Scanlin, the Actionslacks' frontman. Rounding out the San Francisco band is co-founder Marty Kelly (drums), Ross Murray (bass), and Chuck Lindo (guitar/keys).

"We're working on [our new record] a lot during the weekends," Scanlin says about his relocation to L.A. while the rest of the band is in San Francisco. "I'm spending a lot of time in (the airport). Traveling to work on the songs is a different way to make a record, but I like it. It makes you focus on how you write songs."

The Actionslacks recently released Never Never Shake, Baby, a CD-EP on Austin indie Post-Parlo.

"We had some stuff we wanted to put out," Scanlin says about the idea of the EP. "Ben at Post-Parlo approached us while we were in Austin about putting something out. We told him he was in luck because we had some stuff we wanted to release."

"I tell people the EP isn't the direction we're heading in," Scanlin quickly points out. "It was something we released while we were taking a breather before our new record. The first two songs are a bit harder than what you'd normally expect from us. The songs didn't fit in to the vibe of our last record. Now they exist as their own entity, so it's good they're on the EP."

The band's last full-length, The Scene Is Out Of Sight (Self-Starter Foundation), was an angst-driven yet still fun blast of power-pop and rock, able to slip between a bouncy, joyous song about stickers and a kiss-off song to an ex.

The band is currently rehearsing and demoing songs for its next full-length, scheduled for release late this year, once again on Self-Starter Foundation. The band will be hitting the studio throughout the summer to meet the release date.

"Right now I'm doing a lot of eight-track recording to demo the songs. I'm also calling up and singing into my voice mail. I like to record onto a cassette recorder or my voice mail to capture ideas. I can then go back to the first recordings and find out why the song was cool in the first place."

"The songs are like living, breathing things," Scanlin says with love. "I don't want to take that analogy too far, but you have to nurture the songs and pay attention to them like you would a person.

"We have twenty songs written for the new album," Scanlin adds. "We'll demo all the songs until it is time to track them. It's a very good idea to make demos when you're on a budget. It's OK if you're the Rolling Stones and have six months to look at each other when you're in the studio. But when you're on a budget, it's helpful to have an extensive road map."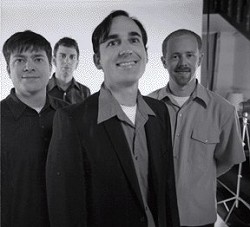 We then start talking about the band's next record and the sound of it, compared to their previous releases. Scanlin tells me it won't be as fast and breakneck or as punky, but he is also quick to point out that the Actionslacks are still a rock band raised on punk.
"Our next record is not going to be like Six Pence None The Richer. It won't be hard, but it will have a lot of dark elements to it. J. Robbins will be producing it again and we'll be tracking at Tiny Telephone throughout the summer. Right now we're frantically working on it. The songs are dark. They run the gamut like the last one, they're melodic and pretty..."
He pauses, and then continues. "I'm not sure how to describe them. You'd have to hear the songs to understand. The new record will have loops and beats on a few of the songs. My biggest touchstones musically are bands like the Who and the Replacements. It won't be a David Gray record, but on previous releases we've gone from slow to fast, breakneck speeds. I want to explore the gray area like Radiohead or the Verve would. Explore the middle area. Explore the area between rocking and mellow. And I want to do it without losing our edge. It will definitely be more sonic and more lush. Let me say this: If you liked our last record, you'll like this one. We're going to rock the songs out live, of course."
Look for the Actionslacks to do some West Coast dates in the summer, followed by Tim Scanlin solo acoustic, to promote the release of the CD-EP.
"I'll be doing some solo shows to promote it and to do some songs on my own... I want to build up a solo following and do a solo album sometime."