SHOW REVIEW: Art Alexakis with Joe Davis
April 9, 2002 - Portland, Oregon (Aladdin Theater)
By: Alex Steininger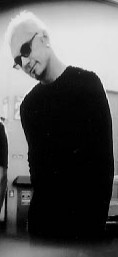 This spring, Everclear frontman Art Alexakis took a breather from recording his bands sixth major label release to conduct a short U.S. tour of intimate, 1,000-and-under seat clubs. The idea was to peel away the sonic layers and play his songs in their most basic form - just Alexakis and a guitar.

Opening for him in Portland was In Music We Trust artist Joe Davis, whose solo album Hope Chest can be purchased at CDBaby.com.

Joe's set, however wonderful I thought it was, will not be reviewed here for obvious reasons. But let's take stock of Art's set, shall we?

Only three days before his fortieth birthday, Alexakis proved to be closer to 20, playing a high-energy, entertaining set, due in large part to its shallow, substance-free frills and cheap banter, both pre- and mid-song.

Let's face it - some of the best entertainment is mindless and self-indulgent. Take for example the movie "Bubble Boy." The corny plot and completely unrealistic script drag the movie down, so the director and cast successfully rely on silly laughs and cheesy gimmicks to keep you entertained.

Another prime example of such entertainment is Britney Spears. You don't go to Britney shows to pay attention to the music and feel the lyrics. Instead, you get swept up in the hype, the blown-up stage show, the dancing, the bright lights and the strapping young kids on stage shaking their asses off while Britney leads everyone through empty calorie, thought-free songs.

On the other hand, you have artists such as Bob Dylan who stray away from all of that and simply rely on their music to make you feel great.

Alexakis, on this level, has a lot more in common with the "Bubble Boy" and Britney than he does with Dylan.

Alexakis is a great producer with an ear that can turn the mundane into a certifiable hit, as he has established with one Everclear album after another. But, take away the talented rhythm section and his ability to layer guitar, horns, strings and vocals, and what's left are flimsy songs that fall apart when played with nothing more than a guitar.

To supplement the songs, Alexakis adds witty banter, an undeniably charming stage presence, and a slick mastery of crowd control beyond the comprehension of most artists. That is, of course, as long as everything goes his way.

When he screams, "Someone here doesn't like Portland? Fuck you," the crowd screams in acceptance. And when he cracks a joke like, "Go back to Eugene, you hippie," they hang on his every word.

But like Big Brother in 1984, Alexakis' mind becomes that of the crowd, which is readily obvious when a twelve-year-old girl gives him the finger for not letting her on stage during a song.

Seething with anger, Alexakis feels as if he has lost control of everyone in the audience. So to remedy the situation, he demands that security remove the girl from the theater before he will resume playing.

After security starts to surround the little girl, Alexakis tells her to get on stage and apologize to him. Scared and intimidated, she does, and eventually she gives him a hug. To which he replies, "Where are your parents?"

Stepping to the mic, he boasts, "I don't beat my daughter, but if that was my child, I would kick the shit out of her." And then you hear groupthink at its worst as the crowd roars, looking to avenge the middle-finger injustice that Alexakis suffered.

As a new parent, this absolutely disgusted me. When did child abuse become funny? Only Art Alexakis could talk about kicking the shit out of a 12-year-old and get a crowd going in excitement, when most artists would be heckled off the stage.

Now, I ask you this: What happened to rock 'n roll? What happened to the time when someone like Silverchair's Daniel Johns could take a hurled beer bottle to the head, bleed profusely, and still finish the set? Or the shitty bar band that gets heckled all night by the drunk in the front, only to win him over by buying him a beer after the gig and laughing it off?

Alexakis' actions are uncalled for and unwarranted. And this is not an isolated incident. A few years back when a girl threw an empty water bottle at Alexakis while he was performing, he balked like a baby and demanded the girl be removed from the club before he would hit the stage again.

It is these types of actions that contradict the rest of Alexakis' show, a show weighted down with gimmicks and crowd-pleasing antics.

For example, there's his call for "sexy dancing" during "Father of Mine," as he calls up those in the crowd who "have had sex at least once." Playing on as they perform stripteases in the background, he eventually stops the song to encourage each other to give lap dances, performs some more, and stops again to rotate the lap dancing personnel.

I must say that this was quite entertaining, but it was the farthest thing from the music, and a gimmick Alexakis seems to rely on way too much.

However, the crowd did not care at all, singing along to every lyric that came out of Alexakis' mouth and eating up his stage banter, basking in the idea that they got to share the stage with their Top 40 idol.

And as preposterous as it seems to me, this is the reason Alexakis is a rock star and a celebrity. He exhibits the traits that most musicians would disdain. He cares more about hypnotizing the audience and controlling an army of devoted fans than writing good, solid songs. He's a businessman first and foremost. He knows how to work a crowd - he could rip into an armpit version of "Hit Me Baby One More Time" and the crowd would think he was the second coming of The Beatles.

For this I applaud him. As much as I hate to say it, his hour and a half of starting songs, stopping in the middle of them to let the crowd in on one of his performance jokes, and then starting the song back up again like nothing happened entertained me. I didn't have to think, I just had to watch as the mindless ear and eye candy swirled around.

And to show how much of a routine Alexakis is on, he rehashes some old jokes from his 1997 solo outing. He responds to a crowd member asking him to play "Freebird" (something that needs to stop at shows) by playing "Sweet Home Alabama" as the crowd laughs. A few seconds into the song he stops, laughs at himself and says, "I can't play that, it's a racist song."

Alexakis knows how to work a crowd, and that is why he has stayed on the charts. As he hits his forties, he uses the wisdom that comes with age to prolong his career, placing himself in the mind of a 20-year-old and cranking out stupid-funny jokes, smiling as the crowd eats it all up with glee.