Divit / Everyday Victory
Split CD (Rise Records)
By: Alex Steininger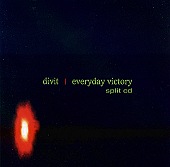 Rise Records' Divit / Everyday Victory split CD is a fine example of two pop-punk bands blurring the lines between pop and punk, with both playing songs with intensity and speed, layering heavy guitars over subdued melodies and pleasant vocals that aren't afraid to scratch the throat up a bit.

Divit is the poppier side of the two, propelling the songs with fuel-burning guitars while the rhythm section hammers away. Everyday Victory is the harder side, bringing forth a thrash-punk upbringing to their melodic pop-punk nuggets. Both bands, though, are prime examples of punk bands that can play the pop without losing any punk "cred". I'll give this a B+.