Deer Whistle
Stranded Somewhere Else (Deer Whistle)
By: Alex Steininger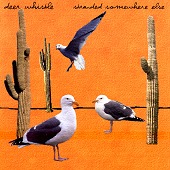 Former Best Kissers In The World front man Gerald Collier and bassist Dave Swafford have teamed up once again, this time to form the Seattle trio (along with drummer Tom Nurse) known as Deer Whistle.

Led by Collier's sexy voice, and his impeccable songwriting, Deer Whistle hammer through alt-country, creating drinking man's blue collar rock to spin at the local tavern at 6pm when everyone is off work and flooding in to the neighborhood bar to forget the work day.

"Staring Into The Sun" blasts into the country-rock right from the get go, while "Gone Away" leans more towards the country side of things. "I Don't Know" is another frolicking country-rocker. And album closer, "Slummin'", is a rhythm-heavy beer-soaked good time, the rhythm section dueling the twang of the guitar.

Collier has always been a fine songwriter. Deer Whistle is no exception. Much like in the Best Kissers, Collier and Swafford seem to be having carefree fun, rocking to rock, and playing music 'cause it's what is in their blood, not because they want to score a radio hit. I'll give this a B.