Transmissionary Six
Transmissionary Six (Film Guerrero)
By: Alex Steininger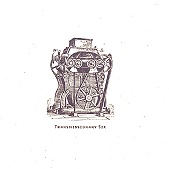 I got to hand it to Film Guerrero, the Portland, Or-based indie label. They sure have the best packaging of any indie label I know, never settling for jewel cases, or even digipacks. They create elaborate cardboard-fiber-esque slipcases that are unlike anything I've seen in a long time. Yet, the packaging isn't flashy, it's crafty and subtle, much like the music inside.

Transmissionary Six's self-titled full-length is a worn acoustic-folk-pop album that, on first listen, just lingers there, floating in its place, and swimming in your background, becoming the perfect backdrop for an easy-going, lounge-around-the-house kind of day.

But, upon further inspection, the songs ask for more than to just be background music, and deserve all your attention. The songs roll off the acoustic guitar so freely, as Terri (the vocalist) brings the songs to a new level.

Her voice is calm and peaceful enough to be the voice you hear in your good dreams, but jarring enough to make sure you don't slip into a dream while her peaceful songs trickle out of your stereo.

The band backs up each song so nicely, adding a touch of percussion, drums, and bass when needed, never overshadowing the guitar or Terri's vocals, and always ensuring that no matter how up front they come, they never over power the songs. Instead, they re-enforce the songs, letting them simmer in their own juices, taking a break for "Hollis & Applegate", an instrumental that allows the rhythm section to shine, and "My Paper Party Hat," a song that builds and builds, with the rhythm section stretching and breathing throughout.

Experimental at times, always folk-based, and brought up on warm, lush pop, Transmissionary Six capture the seasons with their sound. Going from winter to summer and back again as they reach deep inside themselves to create an understated record that gets more done by strolling in the background than getting in your face. I'll give it an A.