Various Artists
From Hell To Gone and Back - Texas Blues (Vanguard Records)
By: Alex Steininger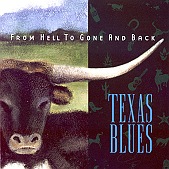 From Hell To Gone and Back - Texas Blues is an interesting record. You have Mance Lipscomb and Lightnin' Hopkins with tracks recorded in 64 and 65, recorded live at the Newport Folk Festival. Then you have Big Mama Thornton and Pee Wee Crayton serving up blues from the mid seventies. And, finishing the album is Vanguard Records' own Lee Roy Parnell, with three tracks from his 2001-released Tell The Truth.

The contrast is quite much. The first four artists fit well together, playing ragged, soulful blues in varying styles, keeping it consist with the simplistic recording and live feel to the songs. And then you have Lee Roy Parnell, whose blues-roots-rock jam sound is not simplistic sounding at all. Instead, sounding quite produced and modern.

The thread that ties them all together, though, is that they're all Texas-based musicians that do the blues their own way. Parnell likes to bar rock it up and infuse hearty portions of country, folk, and Americana into his sound.

Big Mama Thorton's four songs are drenched with soul, her voice passionate and sweaty, steaming hot and ready to sway anyone that refuses to listen. This is the blues and soul colliding together to form a happy marriage, one that is musical magic, something that will make you cry instead at the sheer beauty and magnitude of it all.

Pee Wee Crayton likes to play his blues with a side of smoky jazz and the occasional 70's rock jam. Lightnin' Hopkins makes you shuffle and shake with his electric blues. And Mance Lipscomb delivers acoustic blues as true as it gets.

If you're a fan of blues music and/or Texas music in general, From Hell To Gone and Back - Texas Blues is the perfect treat. Heck, even if you're not, this is still one damn fine record that may turn you on to the blues and make you a fan for life. I'll give it an A.