Carol Blaze
introMonius v.1 (self-released)
By: Sean Strauss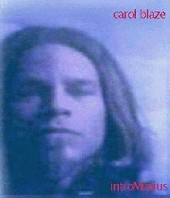 On the drum stool of Pittsburgh's LOWSUNDAY sits A. T. Vish. It is customary for percussionists to drift into concentrated valleys of pattern and tone while pounding dead animal skins back to life, but rarely do they get to have that intimate travel realized with their own album. With Vish's solo project, CAROL BLAZE, the journey begins wonderfully with his first effort, "introMonius v.1".

From the moment of departure, it is clear that "introMonius" is going to be a cinematic experience as the enigmatic voice of HAL 9000 from "2001: A Space Odyssey" clearly states the viewpoint of CAROL BLAZE: My mind is going. Going where? That's up to how deep into the shadow the listener wishes to venture. In 73 minutes, there is more ground covered than in a James Bond movie. Ranging from core-scraping tunnels of razor-edged guitar soundscapes to borderline pop goth tracks, introMonius is a sensual train ride through the faces of death, and like the morbid sketches of the German expressionists, some are simultaneously beautiful and horrifying.

With influences seeming to flow from Mogwai to Nusrat Fateh Ali Khan to the Psychedelic Furs within a matter of minutes, CAROL BLAZE is definitely a music appreciator's wet dream. There are moments that seep into the subconscious and stay there, waiting for the listener to engage in another fix. Tracks like "staring...not too long" and "he can't go on" weave spell webs through the mind like a seducer, then plunge deep, engulfing the g-spot of the cerebral cortex. At one point, the euphony is moving through a moonlit space mountain from a sci-fi spaghetti western before dissolving into a bullet-riddled patrol boat being sucked down the Congo.

While sounding like a perfect album, there are a few unexpected twists of fate. Vish's voice is a pleasant blend of Bowie and Bono, but it almost feels like an intrusion amidst the instrumentals. On the other hand, where would a journey be without the bumps in the road? Within that vein, the main disappointment on the album are the moments in which the drum machine is dominant and frustratingly repetitive, allowing the mind's eye to blink the glitter out. Nevertheless, by the time the train eases back into the terminal all misfortunes are forgiven.

So, attention music lovers and those seeking a film composer, pack the bags. The mind will definitely be going somewhere, and while it is not the "ultimate trip", it is certainly a voyage worth taking.