Nic Endo
Cold Metal Perfection (Digital Hardcore Recordings)
By: Vapor_Trail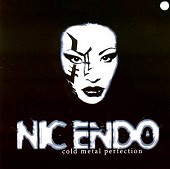 Nic Endo, formerly the noise element of Atari Teenage Riot brings her third solo release Cold Metal Perfection to the world. By far the most outstanding feature of this CD is its almost complete ambient and chaotic nature. At times seemingly reminiscent of classic sci-fi and horror film soundscores. During interviews Endo describes her direction for this record as trying to interpret free jazz into her own style of electronic music. What did she accomplish? In my opinion a free noise element that keeps you wondering what is coming next, one minute soothing the next outright chilling. One could almost describe it as a futuristic Fantasia, easily embracable by the Cyber crowd as well as fans of the avante-garde ambient. A true breakthrough, no wonder Alternative Press rated this release as one of the twenty-five most important in the year 2001.

Also included is the "White Heat" video by Phillip Virus. Incredable footage of the artist in action delivering an ear shattering sonic assault. Plus some nice equipment shots for the technophile in us all.