Introducing... Chica Lishis
A New Monthly Column Here At In Music We Trust
By: Chica Lishis



Hey all my cheap-ass peers who want to go to shows but don't want to actually pay for it but 'ya still wanna know what happened, so you read show reviews and live your lives vicariously through uneducated strangers posing as critics who actually did go to the show but still didn't pay to get in. How you all doing?

I'm fine. Thanks for asking. I've recently planted my plushy butt down at the In Music We Trust Headquarters and begged Alex for a job. Well... not begged exactly. More like I was reading some of the local music mags and I realized "Hey, I'm bitter. I'm lazy. I got opinions and none of 'em seem particularly valid, maybe I could be a music reviewer too.". Which led me to think of Alex, 'cause he's my friend with a online zine, and a helluva guy. Anyway, out of all my failings I gotta a couple I'm going to share. I go to a lot of shows, and I talk a lot of shit like I know which way is up. So not only am I going to bring my show experience right into your ass-widening barcolounger existence, but when I feel like it I'm also going to answer the tens of... tens of bitchy, whiny, "nobody loves me-and I hate you" emails IMWT gets each month.

The Show
Saturday, May 25
The Miss White Trash 2002 Beauty Pageant
Jesus Presley
Mandonna
Ash Street Saloon - Portland, OR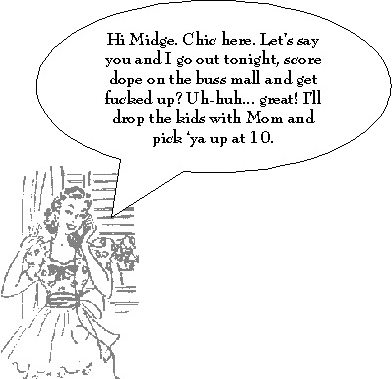 Now darlings, since we can't go see the White Stripes in concert every night. We (and I mean that as the "royal" we) occasionally need to find ourselves other nighttime activities to spend our waking hours on. That's how myself and two of my associates came to attend The Miss White Trash 2002 Beauty Pageant, happening in the never-so-swank and oh-so appropriate P-town club, The Ash Street Saloon. Sounds like a helluva night, huh? Oh, but there was much, much more to take in. Trotting down from Seattle for an early set was the class-act Mandonna; rocker boys decked out as her Material Badness, paying tribute to Ms. Ciccone by playing all her biggest hits. Did I mention it was an early set? They went on at 9:30, wrapped it up at 10 pm, and I missed the whole damn thing. Really! Would somebody please knock the staff of the Ash Street upside the head. I'm sick of missing (and yet, still paying for) bands that I specifically came to see because they are a bunch of 'tards and insist that the first bunch go up at 9:30 pm. It's too annoying.
So, having lost out on a big reason why we attended this show in the first place, my gal pals and I settled in for the pageant, ready to offer support to our skank sisters in white trash. We felt supremely qualified to champion one of these lovely ladies to the top of the trash heap as we too came from sofa-on-front-porch-hound-dog-on-the-dirt-lawn beginnings.
We could not have been more pleased with the contestant selection. By our best guess, only one of the four contenders was under 30, the rest were probably 40 - 50 in bar years and all were sporting incredibly inappropriate outfits. From the white stretch pants with the too-tiny-bikini panty line bulging underneath, to the pink sequined scoop neck dress, scooping way, way lower than necessary, the heat was on and it was every slutty sistah for herself. And the strategies employed by our floozalicious competitors? Those lip-glossed lips opened and truck driver voices tore through the club's sound system, announcing, with little variation on the theme, each of the girls' preference for cheap beer and even cheaper men. Nipples were flashed gratuitously and asses were glimpsed during unasked for bend-overs. Yes, those ladies went trotting out every trick in the book, sacrificing dignity and self-esteem, all to win a 2 foot plastic trophy and a toaster.
I thought it would be fun, but in fact, it turned out to be a little too close to home. Aw, I know it seems crazy, but that could have been my sister up there, or daddy's third wife, or anyone of my cousins strutting their 'old beat up selves and miming sex acts. Oh, how grandma use to make us grandkids laugh by imitating fellatio on a long-necked bottle of Bud! Fond memories of the past had suddenly become uncomfortable recollections in the present. Sigh. You really can't go home again.
Anyway, one of those mangy minxes finally won the grand prize and proudly pranced about the club with glee for a half hour collecting her accolades. After that, she drunkenly stumbled here and there saying "I won (hiccup). Sheeeet. I never (hiccup) won nuthin' (hiccup) in my whole fucking life (hiccup)." Congratulations.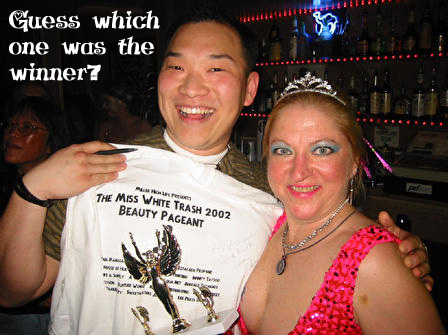 Jesus Presley proceeded to play the hell out of the rest of the evening. Lounge lizard rock 'n roll led by the ever effervescent Reverend Tony Hughes, and enhanced with a couple of tomato's that can sing like larks. But the pizazz had slipped out of the room for me. I still pined for the Madonna cover band, and was now thinking wistfully 'bout my dearly departed granny. So we got the hell out of there and spent the remainder of the evening in meditative reflection at an outdoor restaurant, tossing back tequila shots and watching young boys (yummy!) swagger deliciously from their cars to the underage club across the street.
Love,
Chica Lishis
Send questions, comments, show announcements to Chica Lishis at ChicaLishis@inmusicwetrust.com.