Too Tough To Die
God Saved Dee Dee Ramone and Punk Rockers Everywhere (The Ramones)
By: Gary "Pig" Gold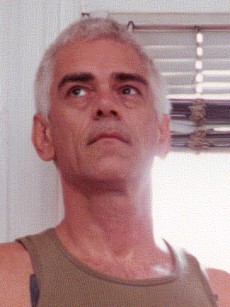 I just want to walk right out of this world,
coz everybody has a poison heart
(Dee Dee Ramone, Daniel Rey)

Beatles: 2
Ramones: 2
(John Hamilton, The Diodes)

Time to go listen to "Wart Hog" again..
(musician-actor-fan Robbie Rist)

A year ago we lost the heart of the Ramones
Now we've lost the soul
That leaves just the brains (Tommy), and the dick and the ass
(name withheld upon request)

His speech was inarticulate;
His songs were not
(Carl Cafarelli, "This Is Rock 'N' Roll Radio")

Dee Dee was the most important musician in the history of punk rock,
and probably the most overlooked
(John Holmstrom, editor/publisher of PUNK Magazine)

With the death of yet another Ramone, perhaps little really needs to be added at this point on how Dee Dee and his honorary brethren reshaped the whole gawddamn world (--.indeed, Yours Very Truly was but one of the supposed Blank Gen who, within twelve hours of his first 1977 Ramones concert, put a band AND a fanzine together. I mean, Didn't YOU?!!)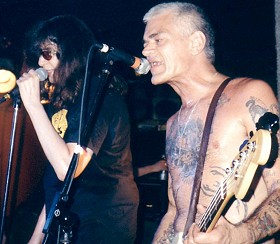 Yet a quarter century later, with (punk) rock now routinely reduced to yet another noxious niche within the gigantic corporate crime-scheme of things, it does seem all too easy to forget the indelible impact those Ramones truly wrought upon a terrifyingly wide swath of humanity. Yes, their SOUND was forever first and one-two-three-foremost within their arsenal, but the band's look, posture, taste, aroma and very thorn-in-the-craw omnipresence offered vital inspiration, and delivered desperately needed hope by the dumpster-load, to all of us who just refused to take "Frampton Comes Alive" or even "Rumours" lying down. Lest we forget too that, within mere months of that first Ramones long-player, Paul McCartney finally discovered the overdrive position on his amp, half of Led Zeppelin and even The Who tightened up their pant-legs (not to mention song structures) considerably, and even the mainstream media itself was sufficiently baited to pounce upon what in retrospect we can see to have been the last great (Caucasian) threat to the melodic status quo.
No mean feats, were they, for four seeming Carbona-heads straight outta Queens, NY. And with all respect due to Joey's Brill Building genetic programming, it was in fact Dee Dee who, just as Dennis Wilson provided HIS musical family, gave the Ramones their identity, spirit, and genuine sneakered, black-leather credibility. As no less a kindred spirit as George Tabb of "New York Press" perfectly states, "Dee Dee was the bad-ass of the Ramones. The one who really took the drugs, sniffed the glue, hung out at 53rd & 3rd and WAS practically a teenage lobotomy."
Plus, need we neglect, Dee Dee's musicianship duly inspired all the coolest Fender far-from-Precision bassmen of the time, from Sid Vicious all the way on down to my fellow budding Canadian pop scribe B. F. "Mole" Mowat (then skipping high school whenever possible to swing the bottom end for a dorky ELO / Alice Cooper cover band). Why, even acclaimed psycho-twangstress Elena Skye, never once loathe to draw that simple pedal-to-the-floor connection between P-rock and Bill Monroe, admits to being "warped for life" after having first encountered the Ramones during her most impressionable dorm years: "I immediately cut my hair like Dee Dee's, with the bangs and all. I put my mandolin away, bought a black Rickenbacker with black and white checker binding, lowered the strap so it hit my knees and didn't look back for about twelve years!" But don't just take it from these good folk: "I believe Dee Dee has influenced every kid playing bass that saw him perform," as no less an expert on the subject as Johnny Ramone recently stated for the obitual record.
"I remember seeing the Ramones at the Bottom Line after Sire Records signed them," recalls Ira Robbins, whose "Trouser Press" was essential in providing the band with early, pinpoint coverage. "It was their big up-from-the-underground-into-the-mainstream-light gig, and Johnny still had to tune Dee Dee's bass for him -- onstage -- after they came out. Now THAT'S the Real Deal, innit?" Yessir, hardly averse to being d-u-m-b whenever the situation warranted, Dee Dee employed his lowly four strings to replant an authentic, cranial-deep ROOT back into the Rock and the Roll, while effortlessly penning several legendary additions to Pop's under-three-minute / less-than-four-chord canon along the way ("Rockaway Beach" alone must qualify the man for SOMEBODY'S Songwriters' Hall of Infamy, no?)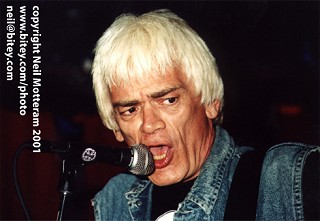 As if this wasn't all more than well enough already, in his latter post-Ramone incarnation Dee Dee gamely cut a few new albums, wrote a couple'a books, and was even beginning to delve into the finer graphic arts alongside longtime henchman Arturo Vega when his number cruelly cropped up. But right til the very sordid end he kept his instrument close at hand, and would never fear to strap it on whenever the call to provide some genuine R 'n' R arose within earshot (as uber-disciple Coyote Shivers reports, the man concluded his final performance in Hollywood's Club Makeup with a terribly timely "Blitzkrieg Bop." Then, hey ho, he was gone). Unable to keep a good sound down though, word has it that said bass itself is about to make a posthumous appearance upon the up-coming Sour Jazz album, so thankfully the weapon that launched a million time bombs, baby, lives on.
Needless to add, Dee Dee forever remained the coolest-looking (and talking) Ramone by far, even as he and his brothers crashed their final socio-musical barrier to become inductees into the so-called Rock and Roll Hall Of Fame circa Spring 2001. Wearing an entirely Bowery-worthy wine-colored jacket, and fresh from hunting down Gene Pitney for an autograph backstage, Dee Dee confronted all of the industry's most pseudo-powerful within the wholly inappropriate Waldorf Astoria that night, and as every Ramone but Joey stood proudly alongside uttered these final, all-encapsulating words of characteristic rare, raw wisdom:
"Hi, I'm Dee Dee Ramone, and, uh, I'd like to congratulate myself, and thank myself, and give myself a big pat on the back. Thank you, Dee Dee. You're very wonderful. I love you."
Now, what more can one possibly add to that?
Love,
Gary Pig Gold