Epoxies
Epoxies (Dirtnap Records)
By: Alex Steininger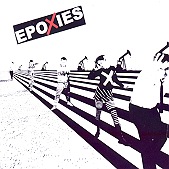 Flashy, stylish punk rock gone new wave, The Epoxies' debut self-titled full-length is a chaotic, equally melodic record of hooks, mayhem, and plenty of those glorious new wave keyboards that keep the songs from going stale (and keep them stuck in your head for hours on end).

This is the epitome of rock 'n' roll - dress-up, carefree beats, lots of fun, and songs you can play air guitar too! Imagine if 80's new wave bands were more obsessed with their vinyl collection than their wardrobe, hairstyle, and make-up, and you have something close to The Epoxies.

Joyous, wild, and always fresh, look to The Epoxies for a good time and nothing else, because when you put this album on, regardless of what is going on around you, as long as you blast the fuck out of it, a good time is what you'll get. I'll give it an A.