Ash
Free All Angels (Kinetic Records)
By: Alex Steininger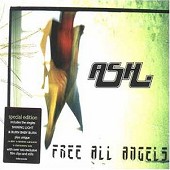 Ireland's Ash had a hit with "Kung Fu", off their 1996 breakthrough 1977. After that, the band seemed to vanish into thin air, with their third full-length getting them plenty of praise but little commercial support.

On their forth full-length, Free All Angels, the band hasn't lost any steam, offering up the same fast-paced, melodic, guitar-rock that got them positioned on MTV in the mid-90's.

The biggest difference here is the songwriting. It has gotten better, more versatile, and more mature, which comes with age. But, so does a tamer, less edgy sound, which the band seems to forge, using maturity to sculpture better rockers, and to add some new dimensions to their songs.

Still offering up the balls-y rockers that verge on pop-punk, they manage to space them between mid tempo hook-laden songs as guitar-driven and loud as their fast counterparts, but more centered on songwriting than playing fast and fun.

"Candy" is a sonic pop offering, the type of song that could be a ballad if it didn't retain the rock edge courtesy of the rhythm section, while guitar leads a lush, full pop song verging dazzling.

"Submission" takes modern rock and makes it hip, adding flash and substance to a slick, well-producer rocker that could very well find itself on radio if radio wasn't so intent on playing the same ten songs over and over again.

"Shining Light" is a hook-laden, catchy pop-rocker, a jangle-y number that will find you singing along as you bop your head and tap your feet to the verse, before bouncing up and down to the soaring rock chorus.

And then there is "Someday", a song that starts off acoustically with strings bringing the song to life. Before long the song launches into a sunshine burst of pop and moves into a warm, full pop structure, somehow never forgetting the rock that created it in the first place.

The promised pop-punk ditties are here too, including the crunchy "Burn Baby Burn", the noisy "Cherry Bomb", the bash 'n' pop of "Pacific Palisades", and the burning, non stop roar of "Shark".

Here is a band that can't be stopped, a rock band that knows guitar rock isn't dead, and doesn't mind fighting to protect its honor, in the process recording one of the year's best rock offerings. No frills, no hype, just great hooks, a lot of guitars, and plenty of momentum to kick ass for them; I'll give this an A+.