Brendan Benson
Lapalco (Startime Records)
By: Alex Steininger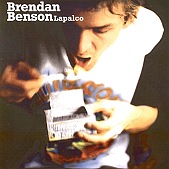 Five years in the making, Lapalco was worth the wait. Following the release of his debut, One Mississippi on Virgin Records, Benson soon fell prey to the major label machine, which ate him up and spit him out, leaving him feeling empty and self-doubtful.

Re-grouping and writing songs on his four-track, with the assistance of friend Jason Falkner (who co-wrote a handful of songs on the album with Benson), Benson soon found a fan in Star Time Records. A label that was more than willing to put out his sophomore release and help him get back on track.

With this motivation, Benson dusted himself off, got back up, and followed up the pop gem One Mississippi with another timeless pop-rock offering, Lapalco.

Trying to avoid the term power-pop, a label Benson seems very hesitant about, "Tiny Spark" is all loud guitars and bouncy rhythm section. At times it plays into the power-pop trap, but is also able to avoid that pigeonhole with its balls-y rock appetite that is as prevalent as the lush melodies and appealing vocal harmonies.

"Life In the D" is a mid-tempo winner, as equally infectious as "Tiny Spark", but less rock-oriented. However, as much as Benson shines when he's crafting moving rockers, he has you eating out of the palm of his hand with the sweet, laid-back acoustic-guitar lead, melody drenched tunes, such as this one.

The jangle-y, 60's AM radio of "Eventually" firmly plants Benson in the pop hall of fame for his songwriting ability. As does "Pleasure Seeker", a bouncy, hook-laden rocker that holds back the punches for a bit while you swim around in the melody, before it unleashes the guitar-driven hooks and has you rocking out.

With twelve tracks, and not a dud on here, any one song, or handful of songs could be described as the stand out tracks. However, truth be told, they're all stand out, memorable offerings from an artist that can be safely described as a pop genius. Lapalco is one of the best records of the year. I'll give this an A+.