Bright Eyes
Lifted or The Story is in the Soil Keep Your Ear to the Ground (Saddle Creek)
By: Alex Steininger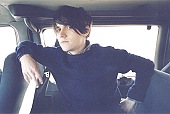 Love him or hate him, you have to admire Conor Oberst, the man behind Bright Eyes, for being one of the most bleeding heart artists out there. His voice alone can make you weep. When he starts singing with part lush, part lo-fi instrumentation backing him up, you'll soon become all choked up and want to cradle him in your arms. Or, pull a seat up at the bar next time him and down a few while he opens his life up to you.

His latest, the lengthy titled Lifted or The Story is in the Soil Keep Your Ear to the Ground is arguably his best and his worst record to date. Its seventy-three minute length proves to be more Bright Eyes than one can digest in a sitting. However, the songs are some of his strongest - lyrically and musically.

Strings flush out the songs, heightening the emotional burn of the already intense numbers, and giving them a classier feel. All while his bare bones, seemingly lo-fi comprised base for every song contrasts the pop sensibilities of them all, setting them up to fall apart, but instead, propelling them to near perfect proportions.

Even though every single song lives up to the Bright Eyes brand - emotional, sincere, melancholy, shaky, and melodic - the barrage of songs seems to be too much to stomach, as the album plays and doesn't stop, leaving you to wonder, "this isn't over yet?"

As they say, leave them craving more. However, some may say, "can you really fault Bright Eyes for too much material?" It's debatable, but until you've digested Lifted..., the answer will most certainly be yes. Ten listens later, you may be changing your story. I'll give this a B+.