Cato Salsa Experience
A Good Tip For A Good Time (Emperor Norton Records)
By: Alex Steininger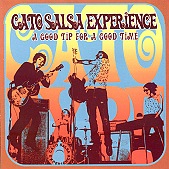 Brought to life by distorted guitars, a manic rhythm section, and a glowing organ, the Cato Salsa Experience go straight for the garage rock, creating gritty, dirty-sounding, melodically rich powerhouse songs fueled by a desire to rock and have a good time. And it is this passion, which you will hear a mile away, as these kids hammer out compulsive, vibrant rock music, that will have you sweating and shaking, grooving to their undeniable dance beats, as the music takes you away and wins you over.

Forget the imitators. Sure, there are a lot of great bands re-visiting the 60's garage rock explosion. But none that are, and believe me when I say this, as good or as enamored with creating deliciously retro, yet modern sounding blasts of beautifully crafted non-stop rock as these guys are.

A Good Tip For A Good Time will go down, when the trend is long gone, as one of the records that defied the trend and still sounds damn good. I'll give it an A+.