Death By Chocolate
Zap The World (Jetset Records)
By: Alex Steininger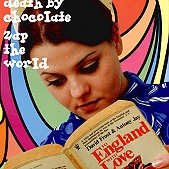 The charm of Death By Chocolate is Angela Faye Tillett's post and sometime mid-song monologues on subjects ranging from 8-track stereos and wah-wah pedals to her favorite shirt. Mix that with delectable psychedelic pop music that redefines art-rock, and you have Death By Chocolate, a sweet mix of sexy sounds, 70's kitsch, and TV-theme-song sounding moments of clarity.

This is pop music put to the test. Hook-laden and lush, though anything but easily digestible (destroying the notion of the hook), and yet somehow so compelling, so irresistible, it has its counterparts beat.

Sixteen tracks of pure hit-and-miss fun, you won't want to stop. I'll give this an A-.