Dylan-Thomas Vance
Cowboy Soul and Country Blues Volume 1 (Triple M Records)
By: Alex Steininger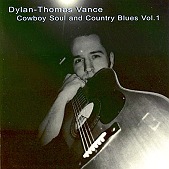 With nothing more than an acoustic guitar and an upright bass, Portland, Oregon's Dylan-Thomas Vance has captured the essence of blues and soul on Cowboy Soul and Country Blues Volume 1, a bare bones, storytelling treat.

Channeling the passion of the greatest soul singers through his blues-y voice, accompanied by the raw, mean slide guitar he plays, Vance delivers a monster blues song with "Preachin' Blues (Up Jumped the Devil)", something that wouldn't be out of place in the 50's coming out of Chicago.

Far from a one trick pony, however, Vance's ballad ability is well showcased on "Mr. Franklin", a country-folk-blues pleaser, the type of emotional piece one expects from an established artist with many albums to hone his chops. Vance hits it on his debut, though.

"Old Man Devil" is a testament to the fact that white boys can indeed play the blues. Vance proves to be well versed in blues history, creating a song as timeless as the classics, though better recorded and more modern, helping him to stay fresh while recreating what has already been done flawless decades ago.

Vance is a blues man through and through, a singer-songwriter that will make you feel what he's singing about, whether it's in the form of a ballad or a fiery blues number that creeps into your soul. I'll give this an A.