Mike Levy
Fireflies (Parasol/Bus Stop)
By: Gary "Pig" Gold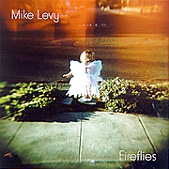 "Solo Debut from Mike Levy of The Sneetches," proudly proclaims the sticker on the jewelcase. That this may be, but it is SO much more. Beginning with a lone keyboard and vocal, "Fireflies" invites the listener inward -- as opposed to blunting one over the ear with far too much crash'n'burn -- but once ensconced, there are wonders aplenty to behold. Most obviously, a rich abundance of finely crafted songs whose instrumental (and, as a result, emotional) peaks and valleys ebb and flow just perfectly (ie: "Too Many People There" especially, which proves Mike's learned Butch Vig's lessons well as well).

While the piano, with roots surely resting in vintage Michael Brown (by way of Brian Wilson of course) is the key element here, Mike Levy's impressionistic voice and arrangements produce a wonderfully mature and assured, but never less than playful, creation for the ages. Maybe that next Sneetches album can wait just a while longer still?