Ming Star
King of Woolworths (Mantra Recordings)
By: Alex Steininger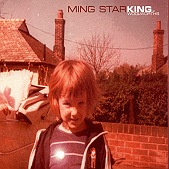 Ming Star's King of Woolworths is an experimental electronica-noise-rock explosion, one that can go from the soothing, subtle beats of "The Watchmaker's Hands", with its delicate pop influences, to the noise of "Stalker Song", an electronica-by-way-of-industrial number that roars with power. They can also do dream-inducing numbers like "Bakerloo (Main Titles)", a seductive, sexy psychedelic art-pop number.

A worthwhile collection of seething, soothing, and smoldering songs and soundscapes, Ming Star delivers a captivating, experimental record that pushes the envelope on conventional rock and electronica. Using the two genres to create something far enough out there to make you curious, but close enough to the norm that it is digestible. I'll give it a B.