Orbiter
Sparks On A String (Loveless Records)
By: Alex Steininger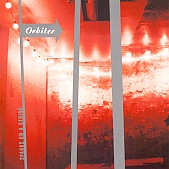 Space pop melded with soft pop/rock, Seattle's Orbiter, fronted by singer/songwriter Harris Thurmond and backed up by singer Fiia McGann, along with drummer Brandon Milner, the keyboard/vocals of Stephanie Wicker, and bassist Jeff Wood, create sonic pop songs. Songs that are just as comfortable causing some raucous with loud guitars and space-y keyboards floating around as they are creating gentle, easy-going pop songs.

Sparks On A String is their second release, their first full-length, and it expands on their initial offering, taking more chances, and moving beyond just a pop song. It is a well-written, strong collection of songs that progress nicely from the start of the album to the close. I'll give it a B.