PuffyAmiYumi
An Illustrated HIstory (Bar-None)
By: Alex Steininger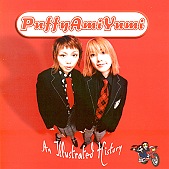 Not unlike The Backstreet Boys or Britney Spears, Japan's PuffyAmiYumi (vocalists Ami and Yumi) is a mass marketed, teen pop icon band - in Japan. Put together to sell records, nobody could have guessed that, unlike Britney Spears or the Backstreet Boys, when these two Japanese girls got together, they would create real magic. Not your sugar-coated, shovel fed teen pop 'genius', but real, vibrant music that could sell millions in Japan and become an underground sensation in the states.

An Illustrated History, their first release in the U.S., brought to us by the great folks at Bar-None Records, gives you a taste of the band's six year recording history. It also offers plenty of extras, including a CD-ROM chalk full of goodies and a music video for the band's "Boogie Woogie No. 5".

Besides being a "manufactured pop act", PuffyAmiYumi has nothing in common with the aforementioned forgettables. In their songs you can hear The Beatles, Billy Joel, the Beach Boys, and even some The Jam.

They are a hybrid of everyone that made pop music the platform it is today, using their voices, and not the background music, to set themselves apart and forge their own sound. This is glorious, harmony-rich, melodic pop-rock music that will send shivers down your spine when you realize how beautiful and crafty it is. And hey, so what that you can't understand what they're singing. I'll give it an A+.