The Vines
Highly Evolved (Capitol Records)
By: Alex Steininger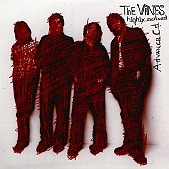 Capitol Records' answer to The Hives and The Strokes, Australian's melodic garage rockers The Vines had never even headlined a show in their home country before England's NME was raving about them. The praise grew and grew, and so did word about the band, which soon led to their deal with Capitol Records.

The result is their debut full-length, Highly Evolved, a far from one-dimensional offering of melodic garage rock, hip ballads, and jangle-y, infectious pop goodness.

From the hip-shaking opening of the title track, with its heavy, snarling chorus and chugging verses, clocking in at only a minute and a half, through the pretty pop of "Autumn Shade", a slightly dirty, but highly melodic model of finely tuned pop. To the danceable, falsetto-lead "Factory", The Vines are able to meld the pop and the garage rock they were brought up on into one unforgettable sound.

With other memorable tracks, like the combustible, guitar-driven, hook-laden garage bite of "Get Free" or the surefire single "Ain't No Room", The Vines live up to the hype and release a record worthy of capturing the minds (and wallets) of the Hives and Strokes-obsessed masses. As well as many more fans. I'll give this an A.