Tim Carroll
Always Tomorrow (Sideburn Records)
By: Alex Steininger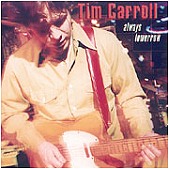 A sought after guitar player, currently a member of both Lonesome Bob and Elizabeth Cook's bands, Tim Carroll once again steps out on his own with his third solo album, Always Tomorrow.

A mixture of bar rock, alt-country, and roots-rock, Tim Carroll's songs are gritty and dusty, conjuring up country influences of old, while forging a new path with a bit more modern rock 'n' roll influences.

The result is an album that knows how to place a ballad next to a rocker. However, Carroll is best when the rhythm section is driving it home, fast and furious, while the guitar chases, trying to keep up, as his vocals spit out the story quickly and too-the-point. Or when he's delivering a rollicking country-soaked number.

His softer material lacks the fire - the spark - that makes his more rocking stuff so magical. Though, a well-versed songwriter with the ability to write memorable slow songs just as easily as he can write the rockers, even the slow songs shine with Carroll's ability to spin a story and reel you in, normally in just around three minutes.

A fine young songwriter with a lot more to come, Carroll may be a member of two rising stars' bands, however if Always Tomorrow is any indication, he might just be a rising star himself. I'll give this a B.