Prick
The Wreckard (Lucky Pierre)
By: Jake Beamer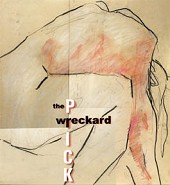 Prick is back, after a decade. Here's the story.

About 1995. Trent Reznor of Nine Inch Nails gets ahold of one of his favorite musicians, Kevin McMahon (from band Lucky Pierre). Things pick up from there. This is about the time of the mid-90s hype of Reznor's record label Nothing/Interscope, mainly due to Marilyn Manson. What few people know is that Prick (Kevin McMahon's studio project) put out a brilliant album that year, entitled Communique (or, self-titled as some know it), toured with NIN and David Bowie, had a video on MTV ("Animal"...) and then disappeared.

This year, seven years later, I found myself drooling over an ad for Prick's new album in a music magazine. So I went to the website (http://www.prickmusic.com) and discovered the album, entitled The Wreckard, is only available for purchase there, due in full to Lucky Pierre music. Interesting, I thought, as I relinquished my credit card.

A few days later, I was not disappointed. In the mail (along with a sticker) came Prick's new record. I was about to go on a trip, so I took it with me.

The first time I hear this Wreckard is on a plane heading towards Nashville. Up thousands of feet in the air, I am being bombarded by the sonic mastery of such cuts as "Three Rings", "Wet Cat" and "Object" and I am just grinning from ear to ear. This odd jangling assortment of electronic mischief is truly abrasive to behold and even better to show to unsuspecting fans of adult contemporary music.

You should really hear this one for yourself. The songwriting is still there songs like "I Know It's Gonna Hurt" just really emphasize how raw McMahon's voice is, and what I like about this album in particular IS its deft production and placement (rare these days). It is really great how you can TELL that a lot of time was spent in the studio making things "just right". At times, songs can be jarring or lovely within a span of a few seconds. That takes skill and creative structuring. Impressive.

Again, I can't wait for the next one. Hope it's less than seven years!