Kind of Like Spitting
Bridges Worth Burning (Barsuk Records)
By: Alex Steininger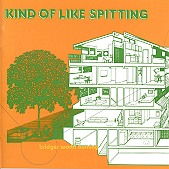 Usually trading in whispery, lo-fi indie pop, Kind of Like Spitting's Ben Barnett, whose live shows are anything but whispery and soft, as he yells to get the audience focused only on him, has obviously had a rock record in him. Which is apparent when you listen to Bridges Worth Burning.

And thankfully so, because as solid as his lo-fi acoustic songs are, Barnett feels more at home rocking, the loud guitars, screaming vocals, and pounding rhythm section feeding off of each other, as the energy level rises and the word flammable is defined.

Listen to the fierce, bass-heavy mid-90's alt-rock of "We Are Both Writers", or the emo-punk of "Born Beautiful", and it is evident that Kind of Like Spitting is a rock band.

However, Barnett seems to not want to alienate anyone, giving them a taste of what he (hopefully) has coming in the future, while delving back into what those who listen to previous Kind of Like Spitting records think the band is all about.

The moody "He Calls Me", a full band, indie rock song, bridges the gap between the rocking KOLS and the acoustic KOLS. Whereas "Canaries" finds an emotional Barnett accompanied by just his guitar, his voice trembling as he dredges up painful memories for the sake of therapy, and entertainment for his fans.

The softer songs on Bridges Worth Burning sound weak up against the more rocking material, though the songs that combine both the elements manage to find themselves and sound good. Still, it is the loud, guitar-drenched rock songs that Kind of Like Spitting thrive at, giving Barnett all the room in the world to battle his inner demos and find solace in the noise, creating something that is therapeutic for him and the listener, sometimes without knowing it. Here's hoping that fans of the quieter stuff don't feel alienated and Barnett unleashes more rock. I'll give this a B+.