SHOW REVIEW: Mira, Lovespirals, and Sumerland
Paris Theatre, August 23rd, 2002 (Portland, Oregon)
By: Sean Strauss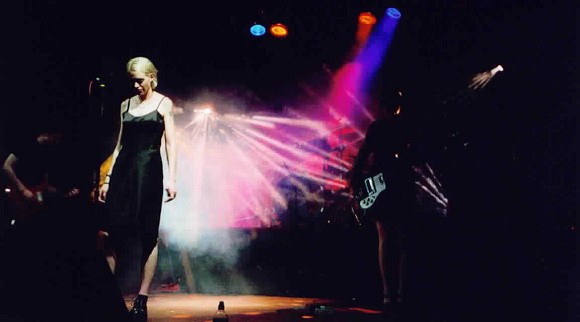 After a year of coordinating with tour managers and club owners, Portland promoter Derek Moore of Damned Productions was able to wrangle together the sexiest concert bill of 2002: Sumerland, Lovespirals, and the much-anticipated Mira. For those in attendance at the Paris Theatre on August 23rd, it was a particularly special evening as this was to be Derek's swan song after twenty-eight shows at the Paris. For a venue that does not have a bar, does not let you smoke, and heats up like a boiler room, an additional challenge aside from playing their guts out is presented to the performers, which is to keep the audience listening once they've come inside. All three bands did so and gave the audience a memorable evening with extra sugar.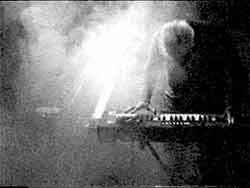 Portland's own Sumerland just doesn't give up. Every time these boys appear on a stage, they play harder and stronger than the performance before. When you hear front man Dorien Campbell speak in his hushed tone, the husky blend of German and Irish is immediately entrancing, but when this guy sings you're in for it. The only thing that keeps you from being clobbered to the floor with the thickness of Campbell's voice is the mystical nature of the music that keeps you floating somewhere between cloud nine and oblivion. As Sumerland closed out their set with "Elfin Girl," anyone puffing away on the sidewalk was sucked inside as if the power being sent out through the speakers was working in reverse. The instruments seemed to be glowing as the band extended the song's outr? to a delirious three minutes. If "Elfin Girl" gets spread as it should, it is going to be a sure-fire hit, the 1 a.m. pink and gold magic hour of college radio across the nation.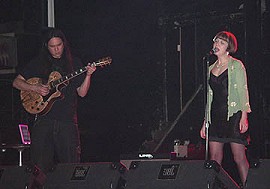 Next came the technical difficulties but delicious music of Lovespirals. While guitarist Ryan Lum and singer Anji Bee clearly seemed displeased with how their show was going, it did not stop them from presenting a lovely display of some obvious hard work. Closing out the set with a few jazz numbers, the audience weaved back and forth with Bee as she appeared as a nightclub chanteuse a little out of her element. Bee acknowledged this by remarking, "We don't know how Mira does it. They've got like twelve shows left. This is only our third, and we're like, 'O, we want to go home.'" Nevertheless, Lovespirals presented their new material, which is absolutely marvelous, and sparked some interest.
During the set change, members of Mira prepared behind a closed curtain. Drummer Alan Donaldson, with head in hands, leaned against a speaker and focused on his strategy. Guitarists Tom Parker and Mark Davidson went to work setting up their myriad distortion and effects pedals, bassist Melody Fleck double-checked her gear, and singer Regina Sosinski stretched her neck and then rested on the drum rise with her bottled water and a thousand unified emotions waiting to be unleashed.
The curtain opened and Portland was introduced to a musical gift from the gods. Mira opened with "Hollow;" the initial chords slowly building letting the mood sift through the crowd like a fog. And then the lips parted. Understand that standing at knee-height of 5 foot 11 inch Regina Sosinski is intimidating enough, but when that soprano voice penetrates your brain and the saucer blue eyes sink into your soul, you want to beg forgiveness for all wrong doings. Slinking back and forth in a black satin dress, Sosinski held the audience entranced for a magnificent fifty minute set. As the band made their first segue into the heart-breaking chorus of "Hollow," the bodies within the Paris began to lose awareness and crept closer into the stage, wanting to caress the sounds that emerged; Regina translating the feelings of the room in her lyrics: I long to feel that something in me. Can I?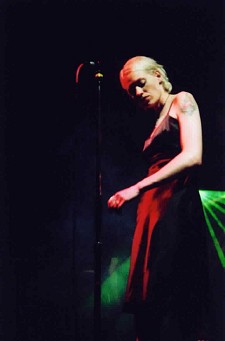 Mira moved quickly into "70's," the first of the three new songs that would be performed that evening. Awesome. The crowd was into it. There were small moments of intrusion from the heaviness of the rhythm section and feedback from the mics, but the sound for the most part was right on, simultaneously in-your-face and comforting. The light design played off the music perfectly. Octo-split beams of white and magical shafts of red, purple, and blue danced in the smoke and spilled into the audience. As noted in one of Mira's album reviews, the chemistry between these guys is a wonder. No one takes selfish control and runs with it. Mira finds a balance within all of their songs, and all that's missing is a monogamous relationship with a sound engineer that knows their material as well as they do.
Guitarist Mark Davidson was a whirlwind. Watching him tear apart the right side of the stage with his energy is a spectacle unto itself. How he got through the show without breaking every string on his guitar or his postmodernist librarian glasses is anyone's guess. As Davidson ripped into the orgasm-inducing guitar riff of "Green," the crowd had no choice but to surrender completely. Melody and Tom stood mostly in the shadows as Regina stood like Joan of Arc under a crossbeam of light while invisible fire breathed and swirled incessantly around her. After Sosinski blasted the venue down with her primal scream bridge, Tom and Mark went to their corners and began their on-stage feedback artwork. Experiencing this in the flesh is something that you'll just have to wait for the next Mira show for. Words can barely describe it; the closest idea might be having Dionysian sex with all of My Bloody Valentine's work at once. Before the listeners could catch their breath, Alan moved right into the familiar drum dance of "Space." Melody was on the ball and began her low-end bass line, emitting cheers from the Mira fans in the house.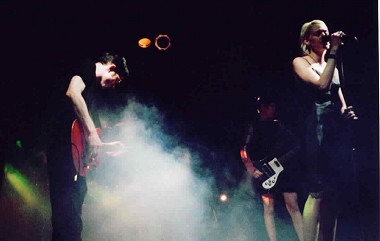 The coolest thing about Mira is that all of the members dig it. Regina took every chance she could to wiggle and swirl to the music of her mates. Mark sauntered across the stage like a shaman with an attitude. Alan filled any breaks between songs with an improvised drum trance. Tom and Melody filled the venue with what can only be described as the porterhouse dizzy. And as the fatal words of, "this is our last song," sank the crowd's heart, Mira broke into an anarchic bastard child of new material called "900 Turbo," which, like "Elfin Girl," has the potential to pull these much deserving musicians out of their day jobs. Melody moaned out a riff reminiscent of Jane's Addiction, and off they went. Psychedelic guitars and an on-the-money rhythm poured like a lava lamp of music through the crowd and misbehaved like a kaleidoscope with a mission. Anyone who wasn't grooving to this thing must have been passed out in the bathroom.
Kudos to Projekt Records for being the only label around that realizes that there are people who can actually get off on psycho-manic-depressant music, which is sadly dismissed by the mainstream. With a little more green and a little more tick-tock, Mira would be ready for the amphitheaters. Mira's performance was like the mind of a lunatic genius in the body of a child. With some luck and a travel-happy soundman, Mira will most assuredly feel that something.