Cave-In
Tides Of Tomorrow (Hydra Head Records)
By: Alex Steininger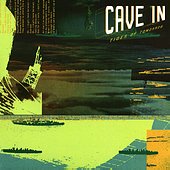 From hardcore kids to melodic rockers, Boston's Cave-In has come full circle, recently inking a deal with RCA Records. Prior to their major label debut they have put together Tides of Tomorrow, a six-song EP that was released on the Boston-based indie Hydra Head Records.

Their punk rock roots still shine through on Tides of Tomorrow, combustible rock outbursts wrapped around melodic hooks. And though this is well produced, this is not your run-of-the-mill, generic, cookie cutter rock. Cave-In rises above that, using their D.I.Y. history to fuel the melodic, but anything-but-commercial sounding rock, sure to drive indie kids crazy, but make little to no impact at radio.

The mid-tempo, heavy, melodic tracks float in the air, making you feel as if you were just hit by a large, blunt object, your movement impaired and your mind zoned into the sounds. Whereas the louder, faster songs just blaze forward, requesting a response as you move around to give it what it wants.

Cave-In's maturity and songwriting growth is eloquently displayed here. From the lighter title track to the "The Callus", they remember where they've been while forging ahead. I'll give it a B.