J Mascis + The Fog
Free So Free (Ultimatium Music)
By: Alex Steininger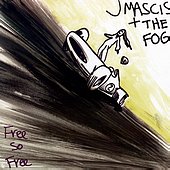 Former Dinosaur Jr. front man J Mascis has established himself as a still vital guitar rock force with his band, The Fog. On their second full-length, Free So Free, Mascis and his backing band haven't forget what it means to play loud and melodic. They create songs with more maturity and depth than their past efforts (not to say their past efforts were lacking maturity or depth), while having fun in the process.

Free So Free soars with plenty of guitars to fuel the driven, melodic rock sound. Mascis's voice is deep and scratchy, still soft enough to compliment the lighter moments, and gravelly enough to really push forward the rock songs that he creates.

From the infectious guitars of "Tell the Truth", the hook-laden "Freedom", and the rough-edged "Everybody Lets Me Down", Mascis + The Fog create a sound that, in a better world, would replace the 'modern' rock that pollutes the airwaves. I'll give it a B+.