Dr. Theopolis
The Voice of the Future (Pimpbionic Records)
By: Alex Steininger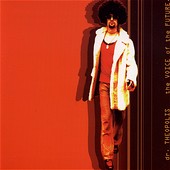 Channeling the sexiness of soul, the love-making styling of funk, and putting it all together with a hip-hop tongue, Dr. Theopolis redefines hip-hop and funk on their eponymous debut, The Voice of the Future.

With the comedy of "Sweet Love," a song that proclaims, "Make sweet love to your mother, ain't nothing to be proud of", which hits you mid-album, Dr. Theopolis puts it all on the line and comes out on top. By the time the song comes along you should already be sold; if not, you won't know what hit you as you instantly begin laughing your ass off and singing along, cranking up the stereo to make sure all around you can hear the pleasurable piece you're enjoying. It's greasy rhythms and silky horns create a vibe perfect for shagging, while the lyrics play like a more sophisticated schoolboy locker room joke.

Another highlight of the album is the interludes, featuring Mr. Fabulous and Billy asking and answering each other's questions while the rest of the band cracks up in the background.

Other standouts like "Fabulous", "The Voice of the Future", and "Funk Is A Four Letter Word", turn even the most non-funk friendly haters into rabid fans. Front men EZ Money and Cecil Pimpington III have the soulful voice missing from hip-hop, and the creepy, swank delivery to make you cum in your pants - boy or girl. I'll give it an A.