VARIOUS ARTISTS: Dressed In Black
A Tribute To Johnny Cash (Dualtone)
By: Alex Steininger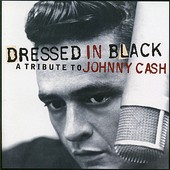 James Intveld's rendition of Cash's "Folsom Prison Blues" is eerie. It is at times a dead ringer for Cash's, the deep baritone, the chug-a-lug of the acoustic guitar, and the twang the electric lead brings. However, during the chorus Intveld's vocals lighten up, springing a new shade of color on Cash's classic, and giving Intveld's version its own face.

While other artists, like Hank III's "Wreck of the Old '97", sounds nothing like Cash, but still pays tribute, giving the Man In Black a nod as he attempts to sound as stripped down, as raw, and honest as Cash. And though Hank III can't mirror the power of Cash, he deserves applause for attempting, and for adding his own spirit into the mix.

Reverend Horton Heat's "Get Rhythm" adds a punk-rock, rhythm & blues flare to their usual rock-a-billy approach. And then there is the tender acoustic ballad "I'm Gonna Sit On The Porch and Pick On My Old Guitar", brightened up by Damon Bramblett, who sounds as if he's glowing while covering his idol.

"Train of Love" is tackled by Kenny Vaughan, "Flesh & Blood" by Chris Knight, and "Ballad of a Teenage Queen" by Rodney Crowell. And though several of Cash's best (in my opinion) get passed over, like "Five Foot High and Rising", "Cocaine Blues", and "A Boy Named Sue", "Ring of Fire" is here.

Cash's dark classic is pumped up into an upbeat shuffle. Not nearly as potent, it loses something in the translation. But, it's hard to ruin a classic song, and Billy Burnette does no such thing, he just gives the song a different outlook.

Though the lack of a "A Boy Named Sue", maybe the all-too-obvious choice, is depressingly noted, most choice cuts are covered, and even when the artists give the song a complete 180, Cash still comes out smelling like roses. I'll give it a B.