Legendary Pink Dots
All The King's Men (R.O.I.R. USA)
By: Alex Steininger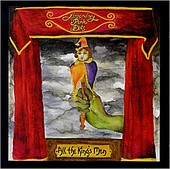 Inspired by the events of September 11th, if only subconsciously, All The King's Men, released in conjunction with All The King's Horses (Soleilmoon), is a reaction to the world that was changing before our eyes. It documents the horror, tragedy, and triumph of all that proceeded the infamous attack on the twin towers.

Hauntingly beautiful, the songs of All The King's Men will send shivers down your spine, give you Goosebumps, and amazingly enough, provide you a comfort zone. Standing on the fringe of electronic psychedelia, the spacious, evaporating melodies and fragile textures consume you, the holes swallowing you as you live and breath the airy residue left by the music.

And though this is my first taste of the Legendary Pink Dots, it will not be my last, their daunting soundscapes the addiction that makes you want to keep coming back. I'll give it an A-.