INTERVIEW: Pete Krebs
From Amsterdam To Portland (Cavity Search Records)
By: Alex Steininger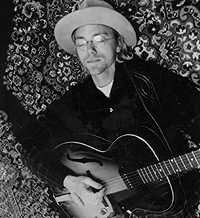 Pete Krebs has become somewhat of a Northwest legend. Fronting the post-punk quartet Hazel, who called Subpop Records home for their two full-lengths, Krebs also found success in his bluegrass band Golden Delicious, his old-time jazz band the Kung Pao Chickens, and a solo career.

After releasing three full-lengths and three EPS, all on the Cavity Search label, Krebs left his Portland, Oregon home for Amsterdam in search of more musical knowledge, to challenge himself, and to expand his own abilities.

Before leaving he recorded a full-length with his rock band, Pete Krebs and the Gossamer Wings. Spending half a year in Amsterdam, Krebs knew it was time to come back home and tour in support of his forth full-length, I Know It By Heart (Cavity Search).

"I just decided now is the time," he says on his decision to tour heavily, something he hasn't done for any other solo release. "Before I left on my trip my time and interests were very divided. When I got back from my trip, the direction was very defined and I made a decision to just make records and tour. Not do it half-assed. I've done it half-assed every time before and didn't want to do it that way this time.

"One of my goals for the New Year is to get a rock band together. Take the time and get the right band together. A rock band that can tour. Get the right players and put together a band that really rocks." Whereas the original concept for The Gossamer Wings was to have an ever-evolving line-up so Krebs could remain quite versatile and thus allow the songs to take on a new life each time they were performed, his newfound commitment to touring has Krebs leaning towards a constant line-up.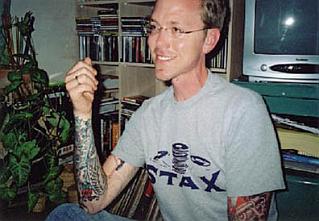 "I like the idea of a constant line-up," ponders Krebs. "In the last four or five years I've played with so many musicians who can cross genres like I can do, and they're wonderful musicians, so if I have the chance to convince a few of them to be permanents in my band, I'll do it.
"I want to tour and get out on the road. I am just reluctant to ask people to do that. It's a lot of hard work and costs a lot of money. It's just a really hard thing for people to do. But, I'm lucky if there are a few people who are willing to take a chance with me.
"Either way, I'll get out there with an acoustic guitar and bust ass."
I Know It By Heart is his strongest record to date. And even though he's been sitting on the record for over six months, says he's completely happy with it. Time hasn't diminished his interest in touring and promoting the record one bit.
"I have a pretty easy time sort of letting records go," he tells me. "You're always going to find something wrong with it. A record is just a document and it's the best you can do at the time. And the next record will be the best we can do at that time. Right now I just want to get out there and play these songs and tour in support of the record."
Krebs has established himself as one of the finest singer-songwriters on the West Coast through weekly gigs with just himself and his guitar. This, however, is not something he wants to be perceived as, and he hopes I Know It By Heart, and future releases, help inform people what he is really all about.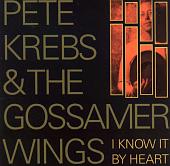 "I'm not into the sensitive stuff. Most of the stuff I've been writing lately has been more rocking," confesses Krebs. "The next record will be more hard rocking stuff, and poppy. I like short songs. Songs over three minutes are weird to me."
"I really hate to think of myself as a singer-songwriter," he continues. "The older I get the less I appreciate labels. I know we're in a label-driven world, but I wouldn't consider myself a singer-songwriter. I am more of an entity. I like working with other people and always have. So I gotta figure out a good title to describe what I do. Even though I'm out there playing, I want it to be more like a band is playing, not just a guy with an acoustic guitar that is really going through a lot and wants to share it to the world. I want it to be a rock show. I don't buy into this anti-folk thing. I don't know what these titles are. I don't keep up with the music press and I don't want to be categorized."
I Know It By Heart was recorded at Portland, Oregon's newest record studio, Are You Listening? Krebs, who has recorded at Jackpot! (Elliott Smith, Stephen Malkmus, Sleater-Kinney) in the past, opted for Are You Listening? for I Know It By Heart to try something new.
"I went to visit Are You Listening? with Simon [owner/engineer] and I really loved the vibe so I thought I'd try something new," Krebs says regarding his decision to work at another studio. "I love working with Larry [Crane, Jackpot Studios], and the stuff that comes out of there is almost always amazing sounding, and Larry is a great engineer. But, I really loved Simon's room. It was comfortable and felt right. I'll definitely do the next one there. I actually talked to Simon last night about booking some days to record demos for the next record. That will probably happen in January."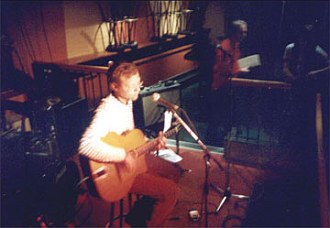 Krebs', in the midst of touring in support of I Know It By Heart, seems to not be shy about writing songs and looking towards the future. Already done with half the songs for the next record, Krebs seems more motivated than ever to give his solo career its all.
"I already have seven tunes for the next record," the prolific songwriter tells me.
It won't be a solo record though. It will always be Pete Krebs' name attached to the project, as requested by his record label, but those anything but a band effort from Krebs will have something else coming.
"I want to come up with a band name, not Pete Krebs and whatever, but just a band name. However, Cavity Search is adamant about using my name first so the records don't get confused, so out of respect for them that's what I do," Krebs says without regret or hesitation. "Believe me, I would much rather have it be the other way around, but fully understand their point."
Look for Krebs to tour non-stop throughout 2003 in support of I Know It By Heart while he writers and records its follow-up throughout the year.