INTERVIEW: Stephanie Schneiderman
One Of The NW's Finest Female Singer-Songwriters (Stephanie Schneiderman)
By: Alex Steininger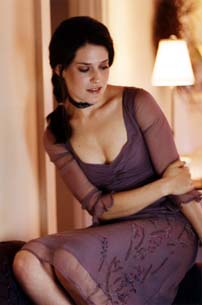 Portland, Oregon's Stephanie Schneiderman has, in only a few years, established herself as one of the hottest female singer-songwriters on the scene. She has begun to generate tremendous buzz in her home region of the Pacific Northwest, managing to garner a slot on the regional stage of the Lilith fair tour.

Music supervisors and radio programmers have also taken notice. One of her songs appears the WB's prime time show "Jack & Jill", and the title track to the soon-to-be-released film, "Kate and Allison" (starring Jamie Gertz and Johnathan Silverman). She even garnered playtime on Portland and Seattle's biggest contemporary pop radio stations.

Beginning with a Portland-based soul group, Body & Soul, the young Schneiderman, still in college, was able to begin making a living at playing music while learning the ropes of the music industry.

"I learned a lot singing [for Body & Soul]," Schneiderman tells me. "I was the green one of the band, the youngest one, and got to sing with sisters who are sisters. That really stretched my voice. And it also got me into another style of music."

After three and a half years of playing for someone else, though, she decided to go out on her own. Fresh out of college, and very new on the guitar, Schneiderman used her connections from Body & Soul to get gigs around Portland.

"When I first started playing out live I pretty much sucked," she laughs. "I thought I would get over the initial hump in front of an audience instead of getting over the hump in my bedroom.

"During that time I put out an acoustic album that I no longer sell anymore. I look back at that record and my cringe meter is high, whereas it's not with the newer material, which is a good thing."

Using the self-released acoustic album as a launching pad, Schneiderman started by working out the kinks in front of her fans. This allowed Schneiderman to rapidly grow as an artist and put together Unbelievably Unbroken, her debut full-length and the album that started to earn her plenty of critical praise, a growing fan base, and commercial radio support.

"To be honest, I don't think KINK [the local commercial contemporary pop radio station] liked Unbelievably Unbroken as much as they liked the four songs I sent in prior to that, a really produced, glossy demo. That demo was the reason they started paying attention to me and I think the full-length wasn't as produced for their tastes," admits Schneiderman.
However, despite the radio station not feeling it was produced enough, Schneiderman thought it was too produced and went into the studio and recorded a live, raw(er) record of her songs, the newly released limited edition EP, which she hand crafts and sells only at shows.
She chose to hand craft the album (she burns each CD four at a time on a CD burner and makes the CD booklet by hand) for the personal touch, and to mirror the more lively, rawer sound of the disc. Though, Schneiderman's main reason for not releasing the EP on a wider scale (i.e. press it up and sell it to record stores) was because she plans on using a few tracks for her next full-length, which she is currently writing.
"My sound is constantly evolving," She says regarding the next record. "If we're talking about the direction I'm heading, it is more in the vein of the new EP. Less produced and less glossed over, more lively and raw."
When we discuss the next full-length in depth, Schneiderman tells me she has "a bunch of new songs [she's] sitting on".
"I have a bunch of ideas on the production, too," she informs me. "So I've been talking to a bunch of different producers about the songs and how to get them the way I want them to sound.
"So, no release date has been set yet. I want to find the right producer first. And, I'm just working on writing the songs and recording them. If I set a release date I tend to focus on the release date, so I don't want to do that, I want to focus on the songwriting and getting the record done first."