Seether
Disclaimer (Wind-Up)
By: Alex Steininger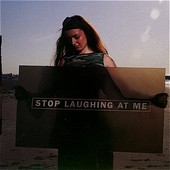 With ten different covers available, Seether seems to think their new album, Disclaimer, is collectable. And though the generic-as-all-get-out angst-y hard rock is nowhere near collectable, the various covers are quite cool to look at and seem to mislead you into believing that Disclaimer is chalk full of depth.

Not the deepest of albums, it is not without its thought-provoking moments, as the acoustic ballad "Broken" will attest to, a light, moving song about losing the love of your life and feeling the need to bring the relationship back into your life. When the line "There's so much left to learn and no one left to fight" is sang, you think about the love of your life. The one that got away. You think about how you miss him/her a lot, and wish you could go back and apply everything you know now to make the relationship last.

But you can't. And maybe that is why this album is stricken with mid-20's angst and loud guitars that fight with the vocals to get the last word in. Disclaimer isn't great, and at times it isn't very good, but at least the pain and emotion are well articulated (sometimes) and the band has something they want to get off their chest. I'll give it a C-.