Avail
Front Porch Stories (Fat Wreck Chords)
By: Erik Holmlund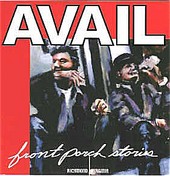 Virginia's Avail have been slugging it out for some time. Since 1987, they've been around in some form or another and were a mainstay of the Lookout! roster for much of the mid 90s. Front Porch Stories is their second album for Fat and is definitely a step forward. The sound is bigger and the hooks have more bite.

For this reviewer Avail has also seemed to plod a along through an album. Sure, there were always a few stand out tracks, but the tempo just dragged. Not so here. The record is strong from start to finish with no down time. The first three songs in particular, Black and Red, Blue Times Two and West Wye, are a great amalgam of hardcore, punk and classic rock. Black and Red may be the best punk song you'll hear all year. Buy it and enjoy it. I'll give it an A.