California
Elekibass (Happy Happy Birthday To Me Records)
By: Alex Steininger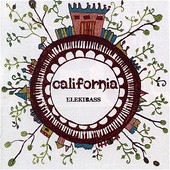 Japan's California brings the carnival to indie rock. Writing fun, bouncy pop songs that put a smile on your face, a lot of times evoking images of carousels, Ferris wheels, cotton candy, and those games where you throw the rings at the bottles to win stuffed animals (especially songs like "Electric Waltz" and "Eleki of California").

Recording everything with lo-fi in mind, the band's loose, sugary sweet songs are the perfect fit for anyone with a sweet tooth; the happy-go-lucky pop will fix anyone's cravings. However, the vocals are Japanese, which makes it hard to sing-along to these songs that call to be sung along with. Which takes away a lot of the fun. Still, they're catchy and bubbly, so you can't hate them too much for not singing in English. I'll give it a B.