Doug Martsch
Now You Know (Warner Bros.)
By: Alex Steininger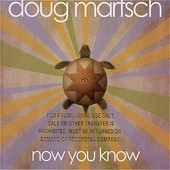 Built To Spill mastermind Doug Martsch, during BTS's break period, decided to record a solo record. Unlike other rock frontman who go in to stroke their egos and record a solo record that ends up sounding like their main outlet (oft-times the solo project is the acoustic or less-rocking counterpart of the full band), Martsch wanted to do something different. Something that wasn't Built To Spill.

What he wanted to do was record a blues record, both acoustic and electric, that paid respect to the old blues legends that he loves. Channeling the energy of these blues players, and adding his own familiar sense of pop, Martsch recorded Now You Know. A record that would fit in perfectly with the blues records he cherishes, did it not have the smart pop affection that shines through on everything he does.

It is this combination, though, that makes the record unique. Martsch's voice sounds spot on, timeless enough to fit right in with the era he is going for, but modern enough to not sound out of place with the rest of the music.

From the acoustic strumming of "Heart (Things Never Shared)", with light finger picking, through the electric blues and keyboard pop of "Instrumental", and the sweeping pop of "Impossible", Martsch takes his blues influences and stamps them with his own identity. And, yes, it is true blues purists would scoff at this, but, then again, true music fans will appreciate its no-boundaries approach and praise Martsch for taking a chance and pulling it off. I'll give it an A.