Johnny Boyd
Last Word In (Cliffdive Records)
By: Alex Steininger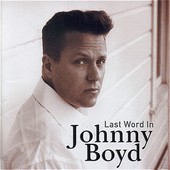 The smooth voice of the popular 90's swing act Indigo Swing, Johnny Boyd, is back in action with his debut solo record, Last Word In, a record that matches the beauty of any Indigo Swing record.

Indigo Swing was the premiere swing act. While others like Royal Crown Revue and Cherry Poppin' Daddies were bringing elements of rock 'n' roll to swing, Indigo Swing kept it pure. Their dedication to their craft was one of the strongest influences in the revival of swing. And though they never earned the popularity of their contemporaries like Royal Crown Revue and Cherry Poppin' Daddies, they still connected with a large audience and managed to sell out venues whenever they went.

With deserved popularity, Indigo Swing took to the road, touring relentlessly for several years, before Boyd made the decision last year to leave the band and take a breather. And to focus on a solo career.

As the primary songwriter for Indigo Swing, fans of the band will instantly recognize the musical vision of Boyd. However, unlike Indigo Swing, Boyd goes beyond 30's and 40's swing. Adding string arrangements, a gospel choir, and a singing Mariachi troupe.

With the additional instrumentation also comes an added sense of experimentation for Boyd, who stretches into the country and jazz elements on Last Word In.

"Twisted (And Turned Around)" finds Boyd steering into the soul-pop realm, a gospel choir backing him up as he delivers a weeping piano-pop ballad that will send chills down your spine. Boyd sounds dead-on as he sings to you straight from his own soul. Adding organ and the choir, the song takes on a new life, elevating beyond a simple piano piece, testifying to the healing power of music.

"I'll Do Right By You" finds Boyd writing country. A twang-y, danceable delight, Boyd shines, proving he is more than a one-dimensional songwriter and, as good as Indigo Swing was that he needed a new outlet to expand as a songwriter. The talent was clearly there, he just needed a forum to show it off.

The jazzy "The One I Love" sounds beautiful even when Boyd sings, "It seems the one I love is not in love with me," an otherwise depressing statement that, somehow, Boyd turns into an anthem for all the lovers and dreamers of the world.

The title track finds Boyd yet again trying another style of music and pulling it off without a hitch. Going back to the glory days of rock 'n' roll and boogie-woogie, Boyd creates a rock song that would have all the kids at the sock hop swinging.

Boyd proves over and over again that he is a versatile songwriter of genius proportions, and that he is a fan of music, regardless of genre or boundaries. For those that want him to still write swing songs, you're in luck.

"Comin' Home To You", "Don't Know What I Was Doing", and the Spanish-flavored "I Got Religion" recall the finest moments of Indigo Swing without a hitch. Boyd left a hole when he left Indigo Swing, but fortunate for us all, Last Word In fills the hole. I'll give it an A+.