Pavement
Slanted & Enchanted: Luxe & Reduxe (Matador Records)
By: Alex Steininger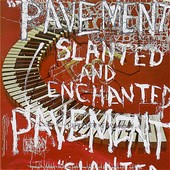 Number 5 on Spin Magazine's Greatest Albums of The '90s, Pavement's Slanted & Enchanted is being re-released as a 2-CD deluxe set to commemorate its ten-year anniversary. Packed with the entire Slanted & Enchanted album. As well as outtakes from Slanted, the Watery, Domestic EP, Watery outtakes, two John Peel sessions (from 6-23-92 and 12-15-92), and a live concert, the deluxe re-issue is a must for any Pavement fan. Or rather, any fans of indie rock.

The music never sounded better. And, of course, it is a big part of why you must own this. However, it isn't everything. A 60-page full color booklet with liner notes from band members and associates - Stephen Malkmus, Spiral, Gerard Cosloy, Chris Lombardi, Dan Koretzky, and booking agent Boche @ Billions - makes this the definitive indie rock history book/CD collection.

Slanted & Enchanted redefined how a decade of indie rock was perceived, how it was performed, and how fans reacted. With a new look, and a lot of extra goodies, those that were there can re-live it. For those that missed out, here is your chance. Every bit of information pertaining to the recording of the record and the year that followed - two Peel sessions, an EP, and plenty of touring (here you find the band live in London at the Brixton Academy on December 14, 1992) - is documented.

Disc one starts out with the Slanted & Enchanted full-length. Take a deep breath, play it loud, and here how it all got started. Then listen to the Slanted outtakes. Here the different versions of "Summer Baby" and "Here", as well as four other songs that didn't make it on to the album.

From there disc one takes you to the first John Peel Session, from June 23, 1992. Here as the guitars buzz and roar, the vocals deadpan but full of energy, and the band playing together as the noise surrounds them and overpowers all that hears it.

Disc two follows a similar path. First you get to hear the EP that followed, Slanted & Enchanted, the Watery, Domestic EP. Then you're privy to three songs that didn't make the EP. And then John Peel Session #2.

The real treat for disc two, though, is Pavement live in London. Putting an end to 1992 in rock 'n' roll fashion, the band, giddy about the massive amount of press and praise bestowed on them, plays their hearts out. Turning the ragged, guitar-fuzz fueled brand of indie rock into a live spectacle, a sweaty, no-holds-barred display of sloppy, smart rock as only Pavement could do it. Playing selections off of Slanted & Enchanted, as well as plenty of other material, the concert stands as a testament to the power and intensity Pavement held.

A colossal collection of everything indie rock stands for, Matador's deluxe edition of Slanted & Enchanted has the fire, the from-the-gut honesty, as well as the wit and charm that made Pavement legendary. Experience it all over or for the first time. I'll give it an A+.