Shuggie
What It Is... And How To Get It (Good-Ink Records)
By: Alex Steininger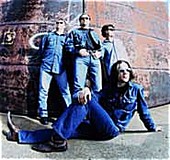 Seattle's Shuggie knows how to have fun while delivering meaningful songs you actually want to listen to and get stuck in your head. The hooks are there, though they don't numb your senses while engraving themselves in your brain. Instead, they prefer to take the smarter route, delivering intelligent, well- written lyrics around melodic, oft-roots-y rock beats. The outcome is What It Is... And How To Get It, the band's debut full-length.

"Pleasure To Burn" is all about the shake-your-ass vibe, the crunchy guitars wailing while the rhythm section makes you move. "Hang On (Shine On)", on the other hand, wants to reel you in with a roots-y, hook-laden number that is more about you feasting on the melody than anything else. And then you have a song like, "Clean Breakup", the drunken swagger of the guitars giving the song its bar-room country rock spice.

As much as Shuggie is about playing it loud and fun, they're not afraid of the ballads. "Disappear" may not be the happiest song lyrically, but the simmering rhythm section, warming backing vocals, and the shining melody at the core of the song scream beauty.

Crank up the guitars, get together with your friends, and have some fun seems to be the Shuggie philosophy. Throw in a modest amount of pop, never forgetting the rock 'n' roll appetite that drives the band, and you have What It Is..., their debut. Put them together and you have cause to celebrate. I'll give it an A-.