Smashing Pumpkins
Earphoria (Virgin Records)
By: Alex Steininger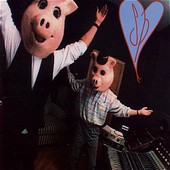 Earphoria captures The Smashing Pumpkins live, between 1992 and 1994. It is the audio counterpart to Vieuphoria, originally a VHS documenting the band before their mega-stardom, which is being re-released on DVD. Added to the DVD is an amusing, 10-minute in-studio interview between the band and a Virgin Records executive entitled "The Unbearable Likeness of Manny".

Including the Smashing Pumpkins' hits "Disarm", "Today", and "Cherub Rock (acoustic)", Earphoria perfectly documents and displays the power and magnitude that made Smashing Pumpkins a household name. Other live staples such as "Soma", "Silverfuck", and "Quiet" are also here.

The fifteen-track disc is the Pumpkins at their rawest, playing loud rock 'n' roll in dirty clubs in front of a packed house of screaming fans, the band and the crowd feeding off of each other's energy.

Always a good band on CD, the Pumpkins, like many other bands, were best experienced live, and, now that they're gone, a live album is your only chance to experience or re-live that. The only down fall is the sound quality isn't the best, giving credence to the fact that this is most certainly a live album. I'll give it a B-.