Tom Petty and The Heartbreakers
The Last DJ (Warner Bros. Records)
By: Alex Steininger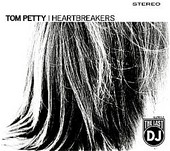 Long gone are the days of artist development, where a label would take a hungry, raw artist, let them build a fan base over several albums, and allow them to find their own sound. Labels are too impatient, too driven by the bottom line to give anyone a chance these days. The thought of allowing an artist three or four albums to hit their stride, that's just not something the majors are willing to put their bank accounts behind.

Looking back, though, that's how the best found their place in history. The Stones, Bruce Springsteen, Prince, they all had a chance to grow while the labels nurtured them. Where would these artists be today if they were getting their start in the current major label system? Most likely the cutout bins, vying for a credible indie label to help them sell 25,000-50,000 units, rather than selling millions upon millions of their releases and living forever as international celebrities.

Tom Petty is another artist who has found longevity in the music industry. Signing on during the days of artist development, working his fingers to the bone, and eventually making his mark, he has earned everything he has. And the old major label system helped him achieve it.

But times they are a changing, and Petty has witnessed it all. He's seen first hand the greed and corruption that runs the business. He's seen the system chew up and spit out the best of them. And he's witnessed the homogenization of commercial radio.

So, with every ounce of southern blood in his body, he goes to the mic and lashes out at the industry that has turned music into a commodity. He voices his opinions on what is wrong with the business of music, while offering up a refreshing, blue-collar rock 'n' roll presence that hasn't been felt for quite some time.

The Last DJ finds Tom Petty and the Heartbreakers doing what they've always done best, playing pop-oriented, blues-y rock 'n' roll that is equal parts rags and riches. It is their swan song. Maybe not their best album, but their most honest, raw, and passionate musical collaboration to date.

On the title track, which opens the album, Tom Petty and the Heartbreakers quickly make their stance known. In the chorus Petty sings, "There goes the last DJ, who plays what he wants to play, and says what he wants to say. There goes your freedom of choice. There goes the last human voice."

Only moments later he states, "As we celebrate mediocrity, the boys upstairs want to see how much you'll pay for what you used to get for free".

Less than two minutes into the album, Petty, along with the Heartbreakers, identifies everything that is wrong with commercial radio, wrapping the words in a roots-y, heartland rock 'n' roll number that is hook-laden enough to find itself all over the airwaves. Luckily, the irony is not lost on the band, though with self-thought also a thing of the past, you wonder if the irony passes over the heads of program directors at commercial stations across the U.S.

"Joe" is proof that the tough-as-nails attitude of Petty and The Heartbreakers has not been diminished with time. A ragged bar rocker that reels you in with a hook before sweeping you off your feet with the chorus, The Heartbreakers fire is still alive. As is Petty's will to fight.

"Bring me a girl, they're always the best," Petty sings in "Joe". "You put them on stage and you have them undress. Some angel whore who can learn a guitar lick. Hey, that's what I call music... she gets to be famous, I get to be rich". As Petty goes toe-to-toe with the industry (like he has done many times in the past, as "Won't Back Down" details), Campbell's gutsy guitar riffs add the dirty, seething underbelly to the disheartening truth about the making of a pop star.

And, as much as The Last DJ is about Petty's disgust with the current state of music, he doesn't dwell on it, stating his opinions and moving on, delivering stark, beautiful melodies and ample rock 'n' roll mayhem to those that just want the music.

"Like A Diamond" is a mellow pop ballad, an easy-going, slumbering song that helps calm your nerves while the tense, horrifying details of the music industry are revealed throughout the rest of the album. A smoky, blues-y guitar riff smolders during the bridge, making the song more than a calm pop song.

"Blue Sunday" is a twang-y, lap steel-flavored acoustic pop song, a fine example of Petty's craftsmanship, while "When A Kid Goes Bad" is a jazzy bar band jam, pumped up with the rock, and loaded with hooks (and Petty's lyrical stab).

"The Man Who Loves Women" is a simple, fun-lovin' romp, a bouncy pop treat that will have you tapping your toes. And "Have Love Will Travel" is a blue-collar pop-rock song, one some may pass of as 'adult contemporary'. But, with Petty at the helm, and The Heartbreakers following, the song becomes more than the sum of its parts.

The Last DJ is a haunting album, an album comprised of all things beautiful. Sparkling melodies, pleasing hooks, and a few classy ballads to warm your soul. But it is also a rotten, bad-boy rock 'n' roll album, the unexpected rebel that will stop at nothing to make its point. Petty and the Heartbreakers do a great job of getting their feelings across and proving their points. But, will the mindless, thoughtless masses listen? It doesn't matter anyway, Petty's too good and too much a staple of music to ever play second fiddle to any passing trends. I'll give this an A+.