VARIOUS ARTISTS: He's A Rebel
The Gene Pitney Story Retold (To M'Lou Music)
By: Alex Steininger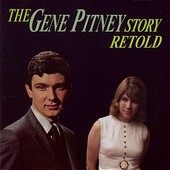 Paying homage to legendary singer-songwriter Gene Pitney, To M'Lou Music has teamed up with several respectable independent musicians to pay back Pitney for all the great music he has, and continues to make for the world.

Tommy Womack's "Louisiana Mama" is a gutsy roots-rocker. Sparkle*Jets U.K.'s rendition of "Summertime Dreamin'" is a beautifully crafted, retro-pop treat. And The Retros' version of "I'm Afraid To Go Home" gives Pitney's lush pop a nod.

Other artists such as The See Saw, Mark Johnson, Glowfriends, and Barry Holdship help fill out this seventy-nine minute, twenty-six track homage to a great songwriter in flawless fashion. And, unlike some tribute albums that are more of a show-off of influences than a thank you, Here's A Rebel: The Gene Pitney Story Retold is a true classic that walks alongside Pitney's own songs without needing to feel ashamed. I'll give it an A-.