Troma DVDs
Bugged! / Tromeo and Juliet / The Tox Box / Rockabilly Vampire / Vegas in Space / Chopper Chicks in Zombietown (Troma Entertainment)
By: Randy Harward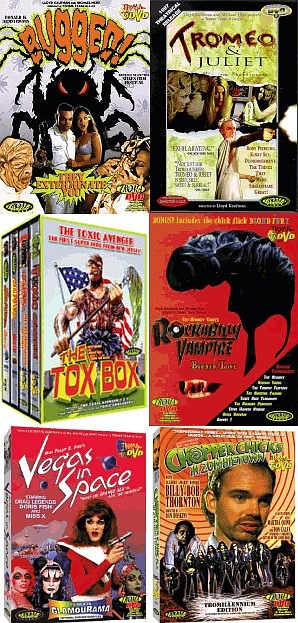 We're gonna take a liberty here and plagiarize a portion of another DVD review in this issue (I'll sue myself later):

B-flicks are an art on two levels. First, the Suck Factor. Practitioners of this cinematic style know it is possible to make a good film with a modicum of talent, finance and equipment. The results, by design, suck...but they suck with brilliance. That is to say, despite their limitations, they take more chances than big-dollar Hollywood tripe and are overall more entertaining. Often, the man behind the camera is the only thing the film has going for it, the only guy with enough intelligence to take a mountain of Suck and make it a fountain of Cool. For this, we overlook poor acting. We allow some play with linear logic...any logic, for that matter. But once in a while, some doofus comes along with everything but the smarts and makes a B-flick that is so terrible, so impossibly LAME, one is stunned to silence, left to ponder the question: Can stupid people ruin underground cinema just like they ruined "conventional" cinema? Suffice it to say, yes.

Troma Studios has put out its share of turkeys, but really does do B-flicks right. Whether it's an in-house production (Tromeo and Juliet, Terror Firmer, the Toxic Avenger series) or a pick-up (Vegas In Space, Rockabilly Vampire, Chopper Chicks In Zombietown), Lloyd Kaufman has a nose for the good stuff.

For instance, Bugged! is the story of big...really big...bugs on a rampage (much like Deadly Scavengers...the plagiarized passage is taken from a review of this shitter) and is done with enough style and humor, making up for its shortcomings, which are copious.

The Tox Box: c'mon--it's Toxie, man. The first three Toxie films and the Toxic Crusaders cartoon are included in this Captain's Platter of Tromatic treats. Could you want for more? Maybe the inclusion of the fourth film, Citizen Toxie?

Rockabilly Vampire: could Elvis be alive as the result of vampiric intervention? Well, it's a fun idea to kick around, made even more palatable by the hot 'billy soundtrack. Sure, this bloodsucker cruises around in broad daylight, but hey--it's a cool concept (again, done with style).

Vegas in Space: drag queens are just plain funny (not funny looking, just in possession of a keen self-awareness that leaves room for cutting observations). But where To Wong Foo and Priscilla took millions of dollars to make the point, two fabulous divas did it on a shoestring budget with one set: their apartment.

Chopper Chicks in Zombietown: hard to make a zombie movie that sucks. Add humor, Martha Quinn and a young Billy Bob Thornton to the mix and you've got infinite appeal.

Tromeo and Juliet: So Shakespeare never did anything for ya? Well, try the Troma translation. Cock monsters, lesbianism, jiffy pop C-sections--now it makes sense.