Hummel
Rhythm Riots (Express Lane)
By: Alex Steininger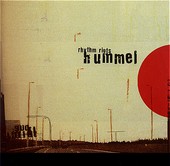 Hailing from Adelaide in Australia, the quartet known as Hummel delivers a rock 'n' roll record with equal parts The Who, The Lemonheads, and You Am I. Produced by Wayne Connolly (Knievel, You Am I, Silverchair, Powderfinger, The Vines, and Evan Dando),the band's debut EP, Rhythm Riots goes from 0 to 60 in no time flat. Opening with their first single, "Better Feeling", a song that recalls the arena rock sensation of The Who with the pop sensibilities of The Lemonheads, Hummel gets things off on a good foot.

Following "Better Feeling" is the roots-y pop-rock of "Off My Feet". "Always Know" finds the band enriching their sound with a Hammond organ, which gives it a semi-lush, fulfilling bite and a warm, organic glow.

Then there is the laid-back "Sigh", a mid-tempo, breezy pop-rock song, or the updated retro rock of "Know It". Finally the album closes with the buzzing, pop-laden number "Watch The Renault" complete with horns.

Master producer Wayne Connolly has got a tight, consistent performance out of the band, helping to shape and model their songs into very promising rock 'n' roll fare. And though the songs at times are too obvious on their influences, as Hummel finds their groove and gets their own sound, this will fade. I'll give it a B.