Destination:Oblivion
Thirteen Beginnings to the End (Dead Awake Productions)
By: Jett Black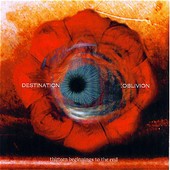 New music comes crawling out of the PDX woodwork on a daily basis, now. Every day that passes brings news of new music from previously unannounced local musicians, and then also new music from celebrated musicians re-locating to Portland, Oregon from any and all points of the USA.

Thirteen Beginnings to the End... emanating from inside Dead Awake studios in Portland Oregon, where Dennis Navratil and Rob Freeman of Destination: Oblivion distress keyboards, industrial noise, hard bass and heavy guitar influence to create a greatly promising, melodic, and rocking energy for this album, their debut release.

Let's delve more deeply into Thirteen Beginnings to the End...

Track One, "Destination", begins with the solid bass line, then distorted sound overtakes the listener and drives heavy with percussion-induced noise into the next track, "The Flow".

"Waiting for the Storm" begins softly, then turns ominous as the storm arrives. Alternating dark piano and off-beat noise mark the arrival of a stormy atmospheric conditions. Listen closely. You can hear the winds stirring sanity into madness.

Now, I'm not certain about the title to track 4. On the cd cover it is listed as "Desensitize", however the insert lists the track as "Descent". Perhaps a play on the words at work here. NIN lyrical influences on this one into a heavy, burning frenzy of alarming auditory distortions churning like a mosh pit following in time with the music.

"Lies" features more prominent guitar work leading the listener through the intro like a slow trip down a lonely stretch of midnight highway covered in cascading rain. The mood clears up a bit with a brief, contemplative quietude, transitioning next into an almost Suicidal Tendencies lyrical diversion with vaguely familiar guitar riffs rocking the moment forward and then, suddenly, the movement pulls over to the side of the road and stops.

Speeding guitars rapidly move the pace of "Shell" into a split second change over which brings us into "Buried" now featuring samples, piano, distorted guitar noise - and angry "shut the fuck up" vocals which strongly remind me of vocal stylings presented by Sean D. in "Sleep" off the latest album by Die My Darling entitled Virulent.

Track 8, "Tendencies", reflects gurgling noises beneath resonating guitar sounds reminding me here of the "Charm" track by Sewn off the Towards the Sky compilation put out years ago by Neue Asthetik Multimedia (New York). "Tendencies" lyrical content speaks of crushing skulls, maggots, decay, climbing mountains of bodies, trying to reach the sun, and "recklessly we will only burn ourselves". A little something for the new metal fans here!

Track 9, "Claiming victim" brings back more piano support in a Reznor style.

Track 10: "Our God Greed": Industrial dance club beats and synth. We hear footsteps, then a gunshot. Reverberating female samples which ask, "will we wake up changed?"

Track 11: "Hope" puts forth an trance inducing instrumental track. Subtle nuances glide in and up slowly to become more dominant forces supporting mantras of punctuated bitterness.

Track 12: "Last Stop" transitions into being like a watery reflection growing still and clear and mesmerizing, which to some extent reminds me a bit of an independent band from Atlanta knowns as NOTHING INSIDE.

Track 13: "Wormhole" the final track, highlights Thirteen Beginnings to the End in a 3-part breakdown: "Reverberation", "The Feast of the Worm", and "The One Second Eternity". Nice transitions, with screams and freaky sounds, drawing attention to "the feast". The One Second Eternity" exits gently with lovely piano keys.

Overall, this Navratil-Freeman mix of Thirteen Beginnings to the End presents electronic noise, aggro-industrial, and goth-punk flavours to unleash a passionate collection from the angst, ire, and turmoil of poetry within romantic relationships and the pursuit of personal self.

Destination: Oblivion might mix well with Portland local artists Zone Wire, Written in Ashes, Ghost Parade, and AntiWorld. Gazing further south along the west coast, I'd recommend pairing Destination: Oblivion with Die My Darling on a tour into the Northwest.