Billy Joe Shaver
Freedom's Child (Compadre Records)
By: Alex Steininger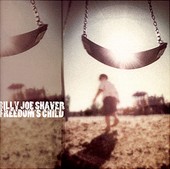 In his three-decade recording career, Billy Joe Shaver never found the commercial success he deserves. Though he has seen his fair share of highlights, including artists such as Kris Kristofferson, Johnny Cash, and Elvis Presley all recording songs he wrote. Waylon Jennings went as far as to record an album entirely comprised of Shaver's material, Honkey Tonk Heroes, which is considered the first outlaw country album.

Thirty years later, the man known for raising hell has tamed down a bit, writing songs about love and loving life more than causing trouble. But the outlaw in him still stands tall and proud, the fighter in him still shining through in every song as he makes it clear he won't give up, whether a lover is leaving or life isn't coming up roses.

The opening track, "Hold On To Yours (And I'll Hold On To Mine)" is an acoustic-lead couch song that finds Shaver sitting down as he picks up his guitar. With the help of keyboards and a rhythm section to flush out the song, Shaver shares the wisdom he's learned over the years to young lovers while dealing with his own love, struggling to keep it together.

The album's title track leans itself more towards the alt-country realm, Shaver putting down the acoustic guitar and going electric, picking up the pace of the album and putting an itch in your feet.

"Good Ol' U.S.A." boosts a swinging groove as Shaver furthers his desire to make you dance. The old time, pro-American country jam takes you back to glory days of country, Shaver's history and prolific recording career making itself known.

"Day By Day", featuring Will Kimbrough on the acoustic 12-string guitar, finds Shaver delivering a poetic acoustic number about the triumph of love, despite the odds.

"He was twenty and one years the day they were married, she was a young girl just turned seventeen. Her belly was swelled with the child that she carried. The unwelcome start of a God-driven dream" he sings in the opening to "Day By Day".

The chorus stating, "Day by day their love kept on growing. Their light kept on glowing and shining so bright. There's hope for the lovers that God draws together. If they hang on 'til everything turns out alright".

Then the wife passes away, as the father and son try to cope with the loss. Shaver's hard-knock tales that still boast triumph is tested after the son passes away. With the father in shambles, he picks himself up from the ground and keeps the love alive, looking forward to the day he can join his family in heaven.

It is this beauty, this take on life that makes Shaver's songs so poignant, so vital. When everyone else sings of doom and gloom, Shaver sees the good in all, overcoming every obstacle life has ever thrown him, giving that ability to the characters in his songs.

Freedom's Child is not only the latest in a long-list of stellar albums from Shaver. It is a testament to the American Dream, a dream put in limbo at the hands of people like George W. Bush. And though Shaver doesn't overtly tackle subjects of politics, his positively and uplifting spirit does, telling people everything will be OK if they just have faith and keep on believing. I'll give this an A+.